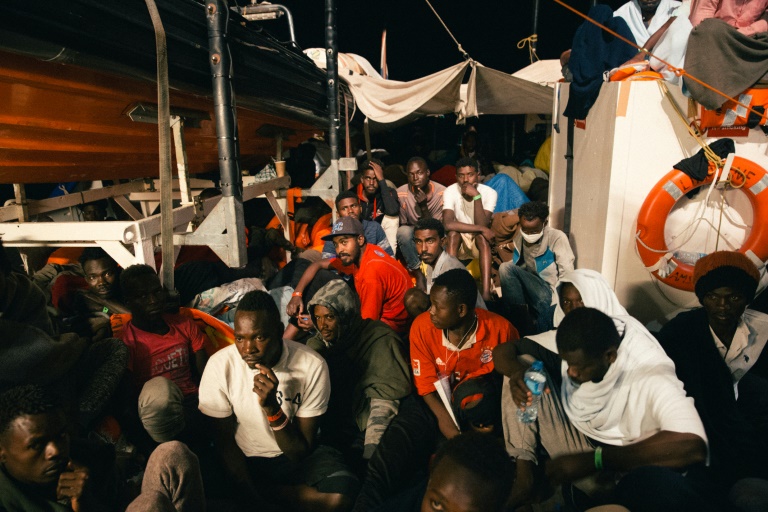 Six EU countries have agreed to take in over 200 migrants stranded on a rescue ship off Malta's coast, French President Emmanuel Macron said Tuesday, after days of bickering between member states over their fate.
Each of the member states, which include France, Italy and Portugal, will take "a few dozen individuals" of the 233 migrants on board the Lifeline vessel, Macron said in Rome after talks with Pope Francis.
However, Macron also criticized the German NGO running the ship for contravening "all the rules" by coming to the migrants' rescue when the Libyan coastguard was already intervening.
"We cannot permanently accept this situation," he said. "In the end we are playing into the hands of smugglers by reducing the risks of the journey."
Macron's comments came after Malta said it would only allow the migrants to land if fellow European Union countries took their quota.
The vessel's fate has hung in the balance since last week as bloc members remained at loggerheads over how to handle the influx of people trying to reach the continent.
The ship had rescued the migrants, including children and pregnant women, on Thursday but Malta and Italy initially refused to take them in.
However, Valletta agreed Tuesday to let the ship dock once other EU states confirmed they would help.
But Malta also warned it would launch an investigation and possibly take action against the Lifeline once it entered Maltese waters.
The Lifeline NGO meanwhile said it had received a message from Malta at 6:00 pm local time (1600 GMT) on Tuesday still banning it from entering "territorial waters".
Italy's far-right Interior Minister Matteo Salvini quickly hailed the news that a second migrant ship he had turned away would be taken in elsewhere.
Earlier this month, Rome rejected the Aquarius ship carrying 630 migrants, forcing it to eventually dock in Spain.
"For women and children really fleeing the war the doors are open, for everyone else they are not!" Salvini tweeted.
He has repeatedly warned foreign charities to stop rescuing migrants off Libya, insisting Italian ports "are and will be closed to those who aid human traffickers".
'Ready to help'
The decision by Italy's new hardline government and Malta to turn away rescue vessels has plunged Europe into a political crisis over how to collectively handle the huge numbers of people fleeing war and misery in Africa, the Middle East and Asia.
French government spokesman Benjamin Griveaux earlier told RTL radio that "a European solution seems to be emerging".
He insisted there was no migrant "crisis" but urged leaders "to respond quickly to an urgent situation".
Spanish Prime Minister Pedro Sanchez also said Tuesday that Madrid would take part in a "joint response" over Lifeline, but "several countries must participate".
Italy and Malta say they are unfairly bearing the brunt of the new arrivals, while other European countries are urging more forceful policies to block their entry.
During a surprise visit to Libya on Monday, Salvini called for processing centers to be set up in various unnamed African countries to deal with potential migrants in a move "to help Libya as well as Italy block migration".
Similarly, France has proposed setting up EU asylum processing centers in Africa aimed at discouraging people to attempt dangerous trips.
Libya is a gateway for thousands of refugees and migrants hoping to reach Europe. Hundreds drown each year attempting the perilous crossing over the Mediterranean in often rickety boats.
War of words
Sixteen EU leaders held emergency talks in Brussels on Sunday in a bid to break the longstanding deadlock over who should take in the migrants
A full EU summit is scheduled for Thursday and Friday.
The current row came to a head earlier this month over the Aquarius incident.
A war of words saw French President Emmanuel Macron accuse Rome of "irresponsibility"for turning away the boat, while Italy denounced Paris for hypocrisy in pushing migrants back across their shared border.
The issue was raised during a meeting at the Vatican Tuesday between Macron and Pope Francis, who has called for "solidarity" with migrants.
In Germany, Chancellor Angela Merkel is facing an ultimatum from her hardline interior minister who has given her until the end of June to find an EU deal to curb new arrivals.