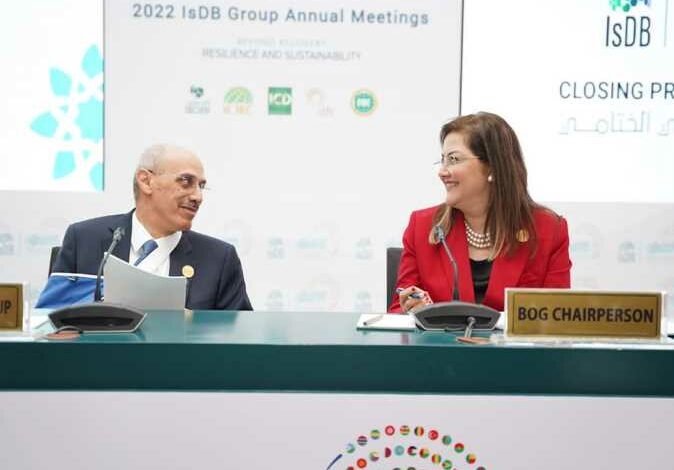 The President of the Islamic Development Bank Group Mohamed Al-Jasser praised Egypt's experience in establishing the Sovereign Fund of Egypt and its prospective role in investment, development and in attracting the private sector, pointing out the importance of such funds in the countries that established them early and their role in the economy.
Speaking to Al-Masry Al-Youm, Al-Jasser expressed his confidence in the capabilities of Egypt and said that the Islamic Bank is studying cooperation through its affiliated institutions with the Egyptian Sovereign Fund of Egypt during the coming period.
He did not elaborate on the planned cooperation and sectors.
The volume of cooperation portfolio between the bank and Egypt, according to Al-Jasser, amounted to US$17.8 billion, explaining that the energy sector accounted for 60 percent of the volume of financing, the agriculture sector accounted for 18 percent, the real estate sector accounted for 11 percent, while the industrial sector accounted for nine percent.
20 years of excellence
He stressed that the bank succeeded in maintaining, over 20 years, an excellent credit rating from international credit rating institutions.
Al-Jasser explained that the establishment of sovereign funds comes to attract private investments and encourage joint investments in countries' resources and the assets owned by them in order to increase their value and effectiveness.
"The group attaches special importance to supporting joint cooperation between member countries, especially the private sector," he said, adding that the Islamic Corporation for the Development of the Private Sector has financed about 505 projects worth US$7.1 billion in various sectors.
He noted the importance of expanding in attracting more private sector participation.
For her part, Minister of Planning and Economic Development, Chairman of the Board of Governors of the Islamic Development Bank and Governor of Egypt Hala al-Saeed, revealed that the expected cooperation between the Sovereign Fund of Egypt and the Bank will be through the Islamic Corporation for the Development of the Private Sector, which aims to promote investments and private sector development in the member states.
Saeed said that the sovereign fund focuses on green initiatives, such as water desalination and renewable energy in hydrogen and green ammonia projects.
She noted the launch of the Green Transformation Partners coalition, which includes Egyptian private sector companies in the fields of energy, transportation, energy and waste recycling, real estate development and sustainable financing.
Edited translation from Al-Masry Al-Youm