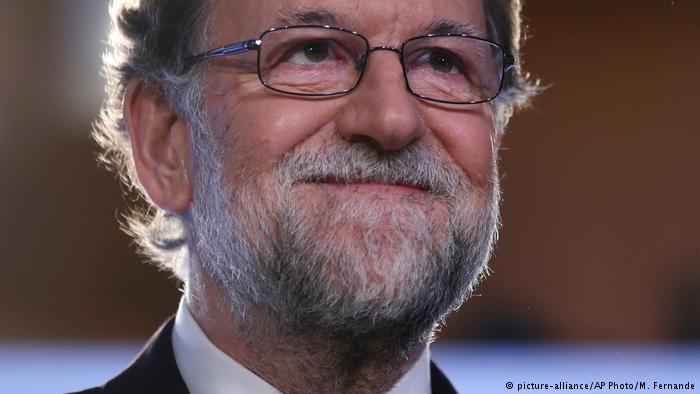 Spanish Prime Minister Mariano Rajoy said on Sunday he would not rule out suspending Catalonia's autonomous status in the event it claimed independence, marking the premier's first remarks since last week's controversial referendum.
"Ideally, it shouldn't be necessary to implement extreme solutions but for that not to happen things would have to be changed," the Spanish premier told the Madrid-based newspaper El Pais.
"I must do things at the proper time … I would like the threat of an independence declaration to be withdrawn as quickly as possible."
Spain has plunged into a political crisis since Catalan leaders went forward with an independence referendum on October 1 despite the country's constitutional court outlawing the vote.
Mariano Rajoy, Spain's premier, has urged Catalan leaders to drop their ambitions for independence or face the consequences
On Saturday, thousands of pro- and anti-independence supporters took to the streets across country to demand dialogue between Madrid and Barcelona.
"This is producing a social rupture in Catalonia, and this has to be resolved through dialogue, never via unilateralism," said 61-year-old Catalan economist Jose Manuel Garcia, who joined demonstrations in the region under the banner "Let's talk."
Read more: Beyond Catalonia: Separatist movements in Western Europe
In Madrid, protesters wore stickers that read: "Catalonia, we love you." However, some demonstrators carried signs urging Rajoy to trigger Article 155 of the constitution, the so-called nuclear option which could be used to revoke the region's autonomy.
Following the vote, Spanish King Felipe VI accused Catalan leaders of "disloyalty," saying the central government needed to ensure "constitutional order."
The Catalan government on Friday said approximately 90 percent of those who voted opted for independence, although turnout was only 43 percent. Local media reported many of those against independence boycotted the vote.
The vote was marred by allegations of police brutality. In the El Pais interview, Rajoy said "some mistakes were made," but blamed Catalan authorities for putting "national sovereignty" in danger.
The premier noted that 4,000 additional police were deployed in Catalonia in the run-up to the referendum, adding they would stay until the crisis was over.