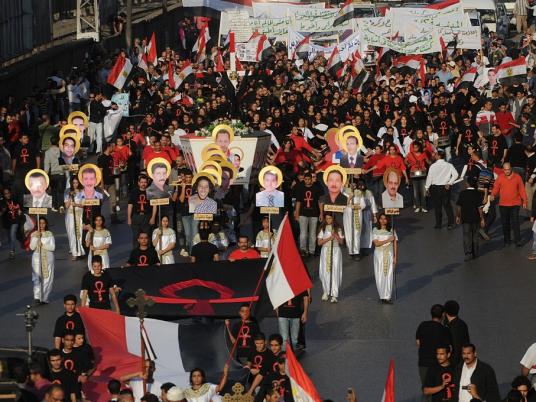 The information minister has warned two Egyptian Radio and Television Union news officials after administrative investigations found their coverage of the Maspero violence last October to be biased, in the union's first tacit admission of fault since the incident.
The investigations found that the head of the news department, Ibrahim al-Sayad, and a news department official, Abdel Aziz al-Helw, incited citizens during the broadcast to attack a mostly Coptic march to the Maspero state TV building.
The coverage at the time was widely criticized by revolutionary forces and Coptic activists for what they called a systematic state policy of defaming those opposed to miltary rule.
Information Minister Ahmed Anis sent a photocopy of the punishment to the judge investigating the events, Tharwat Hammad, who previously decided to close criminal investigations and refer the two officials to administrative investigations.
Sayad told the administrative investigators that he is not responsible for all the news broadcast on TV and does not interfere in minor details of the coverage.
Helw said in his defense that all the news comes to him after Sayad agrees on it. He said Sayad knew the news was inciting but told Helw that, if anything happened, they would hold the announcer, Rasha Magdy, responsible.
Twenty-seven people died during the Maspero demonstrations. Some protesters were killed after being run over by military officers driving armed personnel carriers.
During the incident, state TV news hosts encouraged citizens to go to Maspero to help the military officers, who they said were being attacked by protesters.