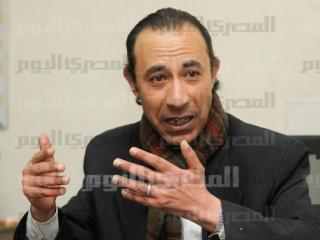 Egypt's state TV is interrogating presenters over a video report which seemed to inadvertently show a banner criticizing the military.
Hussein Zein, head of specialized channels at the Egyptian Radio and TV Union (ERTU) told Al-Masry Al-Youm that the 30-minute report that ran on Sunday depicted changes experienced by the Egyptian population from the 2011 uprising until the present.
Among several scenes of incidents of violence, protests and victims, there was a shot of a banner reading "down with the military regime", the most popular protest slogan voiced by opponents to the regime of incumbent president and former defense minister Abdel Fattah al-Sisi.
Zein stressed that including the scene was not intentional, nor was it meant to refer to Sisi's rule.
Egypt's public and private media has largely been supportive of the military. Criticism of the Armed Forces has often been met with both counter-attacks by government supporters or censorship.
Edited translation from Al-Masry Al-Youm