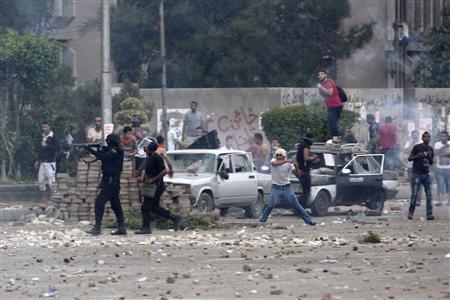 The Strong Egypt Party has denounced the deaths resulting from clashes that broke out between supporters of ousted President Mohamed Morsy and security forces in east Cairo on Saturday morning.
The party called for the removal of the cabinet as "it is incapable of protecting citizens."
In a statement, the party added, "It seems that the security bodies wanted to kill people rather than combat terrorism."
The statement refers to a call Defense Minister Abdel Fattah al-Sisi made to Egyptians to rally on Friday to grant him the authorisation to face terrorism, a call that was heeded by millions of Egyptians.
In its statement, the party added,"What has happened and is still happening is a massacre of Rabaa al-Adaweya protesters. Those who promised to protect the people, starting with the president all the way to the defense and interior ministers and the prime minister, as well as those who welcomed the Defense Minister's call to rally, are all accountable for the more than 120 people who were killed and the 4,500 others injured."
Police and army forces had pledged to protect all peaceful protesters.
The party called for halting the "killings by the Interior Ministry," which it said the Armed Forces has been silent about, and called for dismissing the cabinet and supplying hospitals with the equipment to save injured victims' lives.
It also called for investigating the "massacre"'that took place near Rabaa al-Adaweya and stopping media campaigns that spread hatred and incite civil war.