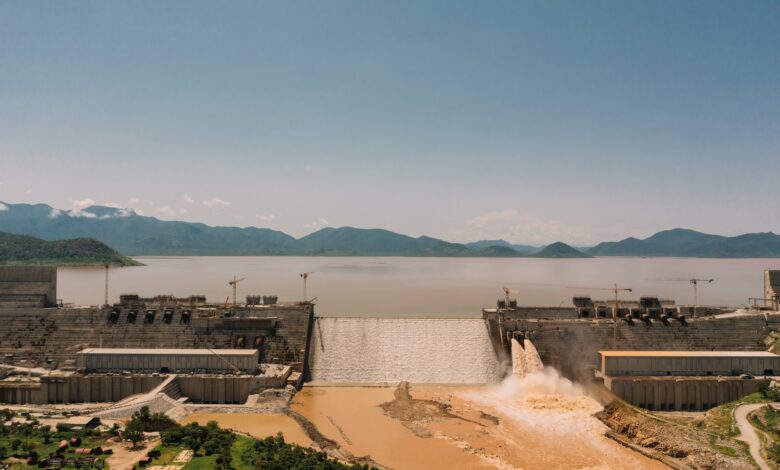 The Sudanese Ministry of Foreign Affairs said that it has rejected what it has called the "irresponsible statements" from the director of the Grand Ethiopian Renaissance Dam (GERD), accusing him of ignoring Sudan's position regarding the third filling of the dam.
Sudan added that the filling and operating of the GERD must be halted until after reaching a fair and binding legal agreement that achieves the interests of the peoples of the three countries.
The Sudanese Foreign Ministry said in a statement, on Saturday, "Perhaps it is surprising that the Ethiopian official did not care about the potential damage to the Sudanese side, despite his recognition of the possibility that both Sudan and Egypt would be affected by the third filling process, which indicates that Ethiopia wants to move forward with its previous unilateral positions."
The project manager of GERD had admitted Kifle Horo in statements to Al-Arabiya TV on Friday, that Egypt and Sudan might be affected by the filling operations of the dam, noting that the third filling would be in August and September.
Despite the possible effects on the downstream countries, he ruled out stopping the third filling process, considering it an automatic process.
He stressed that the process of building the Renaissance Dam will not stop for any reason.
He added that Egypt and Sudan's warnings regarding the danger and effects of the dam do not implicate Ethiopia, explaining that Ethiopia did not go beyond what was agreed upon in 2015 regarding filling operations.
The ministry stressed the need to adhere to the ongoing negotiation process that preserves the right of the three parties in order to reach a comprehensive settlement on the GERD crisis to achieve all common interests.
Sudan slammed the GERD director's remarks as poisoning the positive atmosphere seen in the dispute during the past few months, threatening to further tensions and reverse Sudan's proposal to call for involving the quartet of the UN, US, African Union and World Bank in negotiations.
The Sudanese Foreign Ministry called on Ethiopian officials to desist from making undisciplined statements and to abide by the principles of diplomacy through dialogue as an option to resolve the dispute between the three countries over the Renaissance Dam.