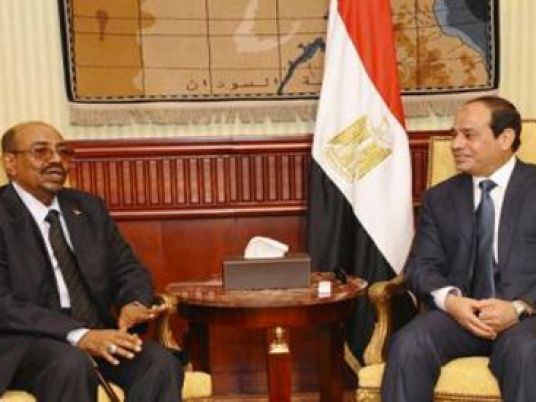 Sudanese President Omar al-Bashir will visit Egypt on Monday to discuss issues of common interest between the two countries during a bilateral summit with Egyptian President Abdel Fattah al-Sisi.
In a statement to Al-Masry Al-Youm on Saturday, Sudan's ambassador to Egypt Abdel Mohamoud Abdel al-Halim said that Bashir's one-day-visit to Cairo comes within the framework of continuous communication between the two leaderships to follow up on the discussions held during a recent meeting between the presidents in the Ethiopian capital Addis Ababa.
He added that the meeting will discuss efforts to resolve the outstanding issues between the two sides and to consolidate bilateral relations.
For his part, Tariq Radwan, Chairman of the Parliament's Foreign Affairs Committee, said that the visit gives a strong signal that the two countries have a desire to overcome their differences, and thanks to their brotherly relations, those differences have started to fade.
Radwan also said that President Sisi has more than once stressed that Egypt has strong relations with Sudan and that the two presidents have been able to quell the diplomatic crisis that emerged in the wake of the construction of the Grand Ethiopian Renaissance Dam (GERD).
Egypt relations with Sudan soured in January after negotiations on the impact of the GERD stalled.
Sudan recalled its ambassador to Cairo on January 5 following news reports in Ethiopia claiming that Egypt was seeking to exclude Sudan from the tripartite negotiations over the impacts of the GERD.
Another source of tensions between Egypt and Sudan is the dispute over the Halayeb and Shalateen region. Sudan accuses Egypt of occupying the territory, while Egypt says it is rightfully under its sovereignty.
Sudan's Foreign Minister Ibrahim al-Ghandour has said that Egypt and Sudan agreed not to escalate the dispute regarding the Halayeb and Shalateen area, instead leaving the matter to the presidents of the two countries.
Sisi and Bashir met on January 27 in the Ethiopian capital on the sidelines of an African Union summit held there at the time.
Halim said that the meeting served as "the basis for a new page that we hope will be based on transparency […] and based on mutual respect and common interests, because what connects the two countries is greater than my words."
Edited translation from Al-Masry Al-Youm