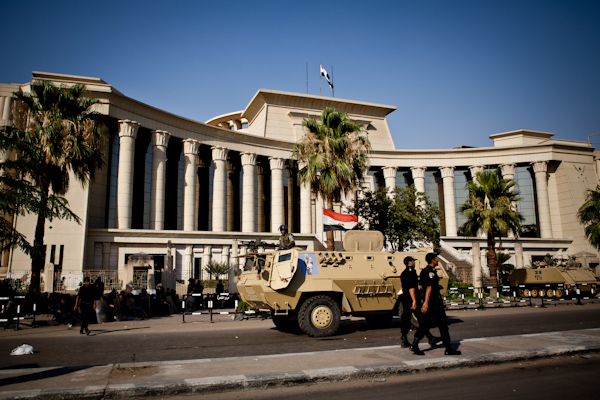 The Supreme Constitutional Court overruled President Mohamed Morsy's decree to reinstate the People's Assembly on Tuesday evening, adding that its 14 June verdict dissolving Parliament must be enforced, state-run newspaper Al-Ahram reported.
Morsy issued a decree on Sunday evening reconvening the People's Assembly until new parliamentary elections could be held. His spokesperson, Yasser Ali, indicated that elections would take place after the new constitution is drafted and approved by a public referendum.
Former head of the SCC Farouk Sultan had earlier told Al-Masry Al-Youm that the reinstatement of Parliament was a blatant violation of the law.
The SCC is not an executive body, and all institutions of the state are obligated to enforce its rulings, Sultan added.
In a session earlier on Tuesday, the People's Assembly had referred the Supreme Constitutional Court's ruling to its Constitutional and Legislative Affairs Committee.
People's Assembly Speaker Saad al-Katatny said that Article 40 of the Constitutional Declaration, which has governed the country since March 2011, stipulates that the Court of Cassation has jurisdiction over the validity of parliament memberships.
In response to this, the deputy head of the Court of Cassation, Abdallah Fathy, said that there is no question that the membership of the People's Assembly parliamentarians is invalid because the body was dissolved by the SCC verdict.
Fathy added that the People's Assembly's decision to ask the Court of Cassation to review validity of membership overrides the SCC's verdict and is an attempt to convolute the two judicial entities. He also accused the assembly of attempting to mislead public opinion.
He warned that the People's Assembly referring the SCC's ruling to the Court of Cassation is illegal, and stressed that Morsy's decree to reinstate Parliament must be withdrawn.
Edited translation from Al-Masry Al-Youm