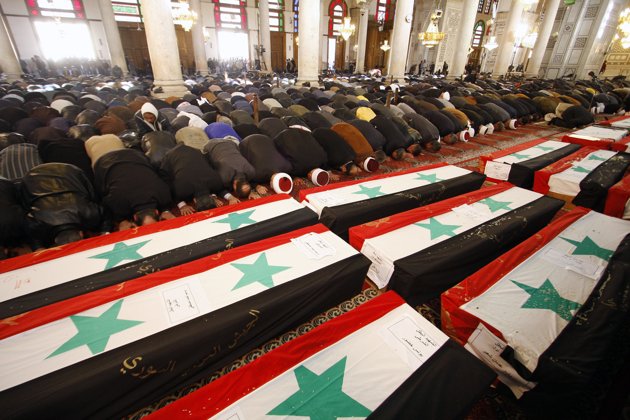 Syria's main opposition group gathers Thursday for a landmark conference in Istanbul, Turkey, to discuss peace talks with the regime, as rebels on the ground suffer a massive army onslaught.
The National Coalition's fresh round of talks is set to run for three days.
It is the opposition group's first meeting since the United States and Russia announced a peace initiative dubbed Geneva 2 to end the two-year conflict that has killed more than 90,000 people.
The meeting comes a day after backers of the uprising against President Bashar al-Assad gathered in Amman to push forward Geneva 2, which would bring rebels and regime representatives in mid-June to the negotiating table.
In their closing statement early Thursday, the Friends of Syria group told Assad to commit to peace, warning that they would boost their backing of the opposition if he failed to negotiate a political transition.
The opposition's agenda for Istanbul is packed with controversial questions, and whether the group can make a final decision on Geneva 2 remains doubtful, opponents say.
It is under pressure from its international backers to enter talks with the Assad regime, but if it complies risks losing what little legitimacy it has left on the ground.
"The Coalition and (key opposition movement) the Syrian National Council have made clear their condition to any talks is the resignation of Bashar al-Assad," Coalition member Samir Nashar told AFP.
"I think the revolutionaries would turn their back totally on the political opposition" should this condition remain unfulfilled, he added.
Former opposition leader and prominent Coalition member Abdel Basset Sayda insisted Assad's departure was still a precondition for any talks.
"All political crises end with a political solution, but the question for us is what kind of solution is acceptable," Sayda told AFP.
Opponents "maintain our position that there will be no negotiation with the regime that does not come with the fall of Assad".
Assad appears as far as ever from giving up, however: in an interview with an Argentinian newspaper this month, he implied that he would stay until the next scheduled election in 2014.
The Istanbul meeting comes as rebels in the central Syrian town of Qusayr face a massive onslaught by the army and elite Lebanese Shiite Hezbollah troops.
"The regime and its backers are trying to change the situation on the ground militarily, in order to gain the upper hand in negotiations," Nashar said.
"That's why Hezbollah and Iran are intervening in such an open way. Again, this is costing the Syrians blood."
On Wednesday, acting Coalition chief George Sabra called on rebels across Syria to "rush to the rescue" of Qusayr, and appealed to the international community to set up a humanitarian corridor to the embattled town.
At the Amman meeting, US Secretary of State John Kerry urged Assad to commit to peace ahead of talks.
Kerry said that "in the event that we can't find that way forward, in the event that the Assad regime is unwilling to negotiate… in good faith, we will also talk about our continued support and our growing support for the opposition".
His British counterpart William Hague said that only Assad's departure could clear the way for a settlement.
The aim of Geneva 2, Hague stressed, would be to agree on the formation of "a transitional government with full executive authority, formed on the basis of mutual consent."
French Foreign Minister Laurent Fabius agreed.
"There are some conditions and in particular conditions about participation, which must be representative and which must not include countries which are against success," he said, an apparent allusion to Assad ally Iran.
Sabra, for the Coalition, only received a last-minute invitation to Amman. He was due back in Istanbul in time for Thursday's talks.
The opposition has other difficult issues on its agenda. Dissidents aim to name a new Coalition president to replace Ahmad Moaz al-Khatib, who resigned in March, as well as three new vice-presidents and a new secretary-general, a Coalition official told AFP on condition of anonymity.
The opposition is seeking to establish a rebel government under interim prime minister Ghassan Hitto, while discussing the group's expansion to include 31 new members, the source added.
That expansion comes after pressures for a more inclusive opposition from Coalition backers, he added.
Hitto has pulled together a list of ministries and representatives for all but the interior and defence portfolios — but his proposals may not even see the light as he too may end up being replaced, the official said.