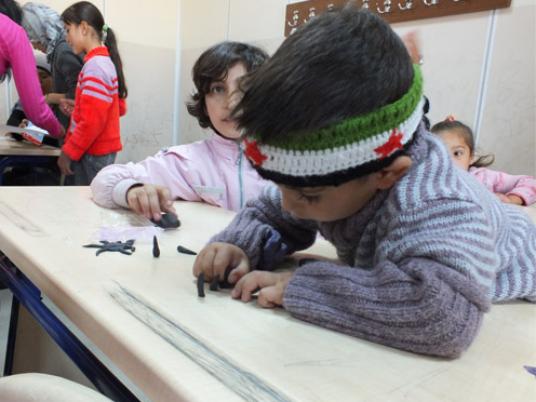 A prominent Syrian dissident said on Friday he believed the country's war was effectively over, as foreign governments have cut support to rebels fighting to overthrow President Bashar al-Assad.
Louay Hussein said Russian-backed diplomacy had "launched a new path" towards ending the conflict, which is nearing its sixth anniversary having killed hundreds of thousands of people and shattered Syria into a patchwork of territories controlled by different armed groups.
"The armed conflict for the state is over," said Hussein, 57, a longtime pillar of Syria's internal Damascus-based opposition, seen by critics as aligned with the government.
He stayed in Damascus when the revolt against Assad erupted in 2011, but finally fled in 2015, saying he feared the government would harm him. He had been detained several times.
"There are no longer foreign states saying they support certain groups to topple the regime by force. We are going back towards a political struggle," he said.
Hussein, who now lives in Madrid, was speaking during a visit to Beirut to launch a new political alliance that he hopes will be invited to U.N.-backed peace talks later this month.
The diplomatic landscape has seen major changes in recent months, including an apparent shift in Turkish priorities towards fighting Islamic State and Kurdish militia instead of backing rebels against Assad.
Turkey is cooperating with Russia, Assad's most powerful ally, co-sponsoring a ceasefire and helping Moscow revive peace talks.
Turkey has been a major sponsor of rebel groups fighting in northern Syria under the Free Syrian Army (FSA) banner. These groups suffered their biggest defeat of the war in December when they were driven from Aleppo by the government with decisive help from the Russian air force and Iranian-backed militias.
Some FSA groups are now fighting alongside the Turkish army in a campaign against Islamic State in northern Syria.
Rebel groups have also received support from Gulf Arab states and the United States. While U.S. President Donald Trump has yet to spell out his policy on Syria, he has previously indicated he could cut support to rebels.
Hussein said "Aleppo was not just one battle, it represented the war", which he said had been lost by the rebels.
The fighting continues, however. A newly formed alliance of Islamist factions vowed on Thursday to launch new attacks against the government. Free Syrian Army rebels also said they had attacked government positions in northwest Syria on Friday.
Swathes of Syria remain out of government control, including the Islamic State-controlled Deir al-Zor province, large areas of northern Syria held by a Kurdish militia, and pockets of rebel-held territory in the west.
Hussein, a member of Assad's minority Alawite sect, has been a vocal critic of hardline Sunni Islamist factions, which are not covered by the ceasefire and continue to fight the government.
He says Russia's involvement has given him new confidence. "We now have an international entity acting as a guarantor, Russia," he said, calling for support for the new diplomatic efforts that "might contribute to ending the crisis".
"When I fled my country, Russia was not present", said Hussein.
Reporting by Ellen Francis; Editing by Tom Perry and Andrew Roche; Reuters