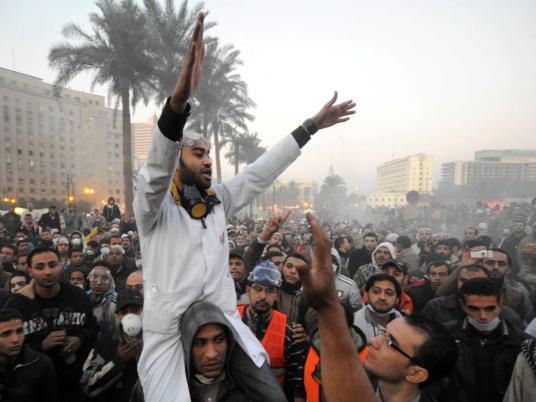 Protesters in Tahrir Square are growing increasingly resentful toward political parties, accusing them of putting their own interests ahead of the well-being of protesters coming under the most violent attacks they've faced since February.
Following a peaceful Friday protest last week, the following sit-in was violently attacked on Saturday, starting a spiral of violent confrontations between protesters and security forces in the side streets surrounding Tahrir Square that has so far left 36 dead in Cairo.
With parliamentary elections at the top of their agendas, most political parties in the square throughout the bloody week have limited themselves to statements of condemnation, usually paired with stressing the importance of holding parliamentary elections on time.
But elections were not on Khalaf Allah Fouad's mind when he saw the man standing beside him shot in the eye with a live bullet last Sunday.
"They want political benefits that we are paying for with our blood," says the 33-year-old state employee who is suffering from a broken jaw and bird shot injury in his cheek as a result of the clashes, reflecting a fear among protesters that parties will only use the sit-in as a platform for election campaigning.
Feeling sold out by political parties, protesters in Tahrir are now making sure that parties won't benefit from the sit-in.
The numerous stages controlled by different parties present in previous Tahrir sit-ins are no longer there. Instead, a banner hanging at the entrance to the square firmly declares: "It is completely forbidden to raise any slogans belonging to any political or partisan forces, the square has only one microphone, and no others are allowed. One voice, one fight, we all fight it together under the slogan of sovereignty for the people of Egypt."
The hostile welcome many politicians received as they attempted to enter the square shows how adamant protesters are to keep their sit-in popular and protect it from party influence.
"They fooled us after the first sit-in that ended on 11 February; we won't let them fool us again," says Fouad.
A wide gap is growing between protesters who believe they are in a battlefield and political parties attempting to balance their support for the revolution with their political agendas, causing their demands to diverge.
"It is obvious that political parties don't want to do anything to jeopardize the elections which are a golden opportunity for them," says Mohamed Taman, the spokesperson for the 25 January Revolution Board of Trustees. "This makes them completely detached from what is happening in the square where people want the fall and even execution of the field marshal," he adds.
In Tahrir Square, banners and non-stop chants declare, "Down with military rule," as protesters demand the immediate handover of power from the ruling military council to a civilian national salvation government.
Since this demand would inevitably delay parliamentary elections, parties' positions vary between condemning the demands from Tahrir and supporting them, but adopting demands more in line with the parties' own interests.
Wafd Party President Al-Sayed al-Badawy issued a statement as violence was unfolding on Sunday accusing "agents, the unfaithful and instigators" of receiving aid from the US and other countries to halt the democratic process in Egypt.
Adl Party Spokesperson Tarek al-Malt tells Al-Masry Al-Youm that the party has been present in the square since Saturday to object to the use of excessive force against protesters and demand the prosecution of those responsible. He says that the party, however, doesn't agree with the main demands coming from the square.
Known for its strong ability to mobilize, the Muslim Brotherhood has been especially blamed for not supporting protesters when the violence escalated. The Brotherhood officially withdrew from the square after last Friday's protest against the proposed supra-constitutional principles document.
While parties are fixated on the parliamentary elections as a resolution to the current situation, protesters in Tahrir are divided over voting or boycotting them. But either way, all have little faith in the democratic process and believe Tahrir Square is where they can find their rights.
"We will get our rights here, not in the elections. We have lost faith in political parties," says Adel Seif, a 24-year-old graphic designer.
"No Muslim Brotherhood, no political parties, the men are here in the square," now echoes throughout the square, where people are being injured and even dying. This contrasts with political parties, whose preoccupation with salvaging the elections has increased protesters' mistrust in the upcoming political process.
"No respectable person will leave people dying here and keep working toward obtaining parliamentary seats instead of coming down here and dying with us," says Mohamed al-Badry, a chemist who says he will boycott the elections because he now believes no political parties can represent him.
Protesters are especially angry that parties met with the military council to negotiate a solution on Tuesday, in the midst of violence around Tahrir. The protesters say that the days when politicians speak for the revolutionaries are over.
"Those that met with the military council are only representing themselves. If the military wants to talk to the revolutionaries, they can come and find them here in Tahrir Square," says Fouad.
As one activist puts it on his Twitter account, the animosity growing in Tahrir Square is not only directed at the ruling military council, which they hold responsible for the deaths that occurred, but also toward political parties that they believe sold them out for parliamentary seats.
"To the members of the next parliament, before you sit on your parliamentary seat, make sure you wipe it because there will be a lot of blood on it," wrote Amr al-Dib.