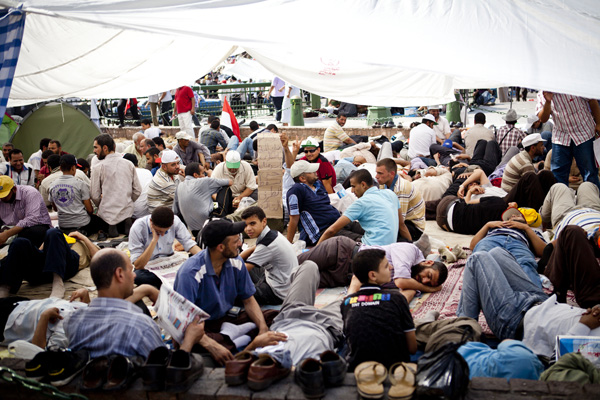 Muslim Brotherhood spokesperson Mahmoud Ghozlan has said the Tahrir Square sit-in will continue until all demands are met, calling on the media, which had earlier said the sit-in was suspended, to be accurate in their news coverage.
The Brotherhood demands the cancellation of the supplementary Constitutional Declaration and that the decisions to dissolve Parliament and grant the military the power to arrest civilians be rescinded.
Prominent Freedom and Justice Party figure Mohamed al-Beltagy said political forces have rejected the supplementary Constitutional Declaration in order to defend the civil and democratic state that everyone is anticipating.
Beltagy also said that handing over power also means giving legislative and regulatory powers to the elected Parliament, the only body that is entitled to draft a new constitution for the people to vote on.
The sit-in is being held in the square for the eighth day in a row. "We want the army to go back to the barracks and let our new president rule," said Amina Khalifa, a protester.
"We will face them anyway if they do not deliver," said Mohamed Bahaa, a protester from Helwan neighborhood, calling for giving the Brotherhood a chance. Similar protests are being held in Sharqiya, Giza and Sohag.
Earlier this month, the military council passed amendments to the Constitutional Declaration voted in by popular referendum in March 2011. The amended articles grant the council full legislative authority, outline the role of the next president and govern the formation of the Constituent Assembly that would draft the new constitution.
Edited translation from Al-Masry Al-Youm