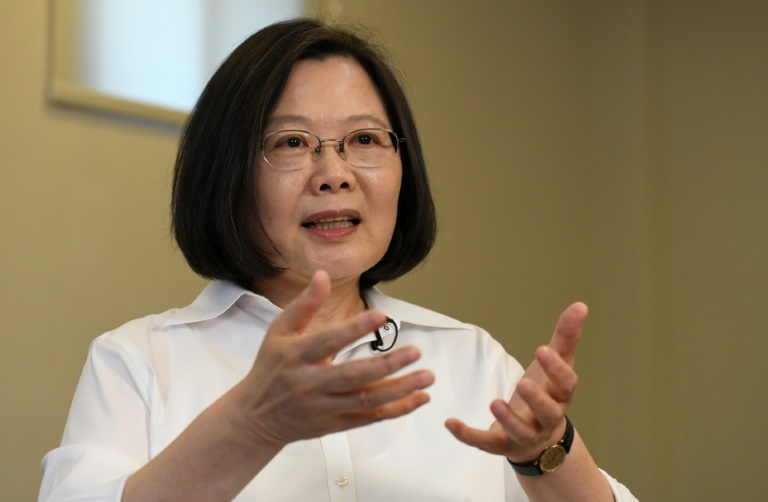 Taiwan's President Tsai Ing-wen called on the international community to "constrain" China by standing up for freedoms, casting her island's giant neighbor as a global threat to democracy.
Her comments in an exclusive interview with AFP on Monday come as Taiwan faces what Tsai called "immense pressure" from Beijing.
She urged other nations to unite with Taiwan in defending against China's expansionist aims and to protect shared liberal values.
"This is not just Taiwan's challenge, it is a challenge for the region and the world as a whole, because today it's Taiwan, but tomorrow it may be any other country that will have to face the expansion of China's influence," Tsai told AFP.
"Their democracy, freedom, and freedom to do business will one day be affected by China," Tsai added.
"We need to work together to reaffirm our values of democracy and freedom in order to constrain China and also minimise the expansion of their hegemonic influence."
Her comments come after a sustained period of aggression from China towards Taiwan, which Beijing believes is part of mainland territory, to be reunified by force if necessary.
Self-ruling Taiwan is a democracy and sees itself as a sovereign country, although it has never formally declared independence from the mainland.
An increasingly hard-line President Xi Jinping has made it clear that what he sees as threats to China's territorial integrity will not be tolerated.
China is deeply suspicious of Tsai as her Democratic Progressive Party (DPP) is traditionally pro-independence.
Since she took office in 2016, Beijing has ramped up military drills near the island and has successfully pressured some major international companies to list Taiwan as part of China on their websites.
It has also exerted diplomatic pressure by ensuring Taiwan is excluded from major international forums and wooing away some of its few remaining official allies.
Tsai said China should "be aware of their own responsibility" in the region and "engage in conversation with Taiwan".
Countries both around the region and further afield have expressed concern over China building military facilities on remote islands in the South China Sea.
Beijing has also been seeking to extend its power with its globe-spanning Belt and Road infrastructure project, which aims to connect the world's second-largest economy with Africa, Asia and Europe through a vast network of ports, railways, roads and industrial parks.
Meeting with Xi
But despite escalating tensions, Tsai said she would still "be willing" to meet with China's President Xi Jinping.
"Of course, I hope that during my term as president, there is a chance for both sides to sit down and talk," Tsai said.
She added she would meet Xi on an equal footing and with no political pre-conditions, a position she has long taken.
However Beijing insists Tsai must agree that Taiwan is part of "one China" in order for any meeting to take place, which she has refused to do.
Tsai said the recent summit between US President Donald Trump and North Korean leader Kim Jong Un had "provided a lot to think about".
"Their two countries are very far apart in terms of cultural values and other aspects, as well as the positions they hold," said Tsai.
"But they were able to sit down and talk on the basis of reciprocity and mutual respect in Singapore. I think this was a positive development for the international community.
"It is also an encouragement for countries that are at odds with one another."
With its number of official allies dwindling to 18 as Beijing lures them away, Taiwan is now trying to forge new friendships.
Its most powerful ally is the United States, which is its major arms supplier even though it does not have formal diplomatic relations with the island.
Tsai said Taiwan had seen growing support from the United States, where Congress recently passed bills paving the way for higher level official visits, and recommending greater US-Taiwan military exchanges. The US State Department also approved a preliminary licence for sensitive submarine technology, riling Beijing.
The warming relationship comes as Taiwan tries to boost its homegrown defence force.
"In the face of China's threats we feel the need for us to improve self-defence capabilities," she told AFP.
Tsai said Taiwan is looking to bolster ties with "like-minded" countries.
But against Beijing's growing global influence, the island's desire to promote its status internationally as a beacon of democracy in Asia remains an uphill struggle.
"Of course there are times when we feel frustrated, but the Taiwanese people do not have the option of giving up," she said.