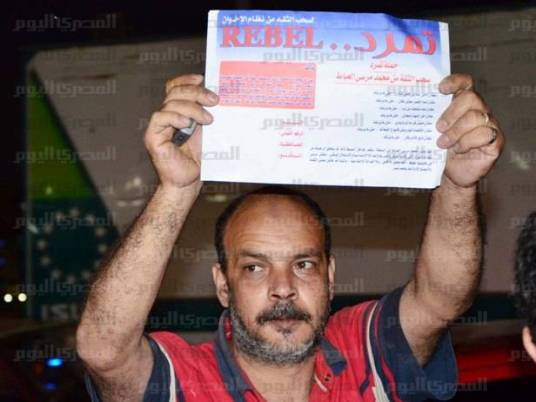 Egypt's opposition Tamarod campaign has backed Supreme Constitutional Court (SCC) President Manar el-Beheiry to replace President Mohamed Morsy, a founding member told London's pan-Arab daily newspaper Asharq Al-Awsat Saturday.
Discussing the campaign's decision, member Mohamed Abdel Aziz said if Morsy was ousted during 30 June protests the SCC president "would take power as part of a government of technocrats and a national defence council with 65-percent military members."
"Islamists look to intimidate people to prevent them from taking to the streets" on 30 June, Abdel Aziz claimed, stressing that anti-government protesters would maintain peaceful demonstrations on the day.
Activists will meanwhile form committees to ensure protesters are kept safe, he added.
Black Bloc activist groups, according to Abdel Aziz, had already agreed to not use Molotov cocktails at protests in order to keep protests peaceful.
"We are working on the final arrangements with revolutionary forces for the day," Abdel Aziz revealed, claiming that millions of Egyptians will take to the streets nationwide to express anger and disappointment at President Morsy's leadership.
The president had failed to fulfil the revolution's founding demands, he added.
"The main location for protests will be in front of the presidential palace. Protesters will raise a million red and yellow cards, urging the president to leave. There will also be black balloons released into the air," Abdel Aziz said.
Protesters will stage a sit-in in front of Cairo's Ettehadiya palace until their principal demand, early presidential elections, is met.
Demonstrators will not cede this demand, he stressed.
Tamarod, meaning "rebel" in Arabic, is expected to exceed its original target of obtaining 15 million signatures for its no-confidence petition against Morsy, Abdel Aziz said.
SCC President Manar el-Beheiry will be replaced by Adly Mansour when his tenure as court chair ends at the end of this month.
Edited translation from Al-Masry Al-Youm