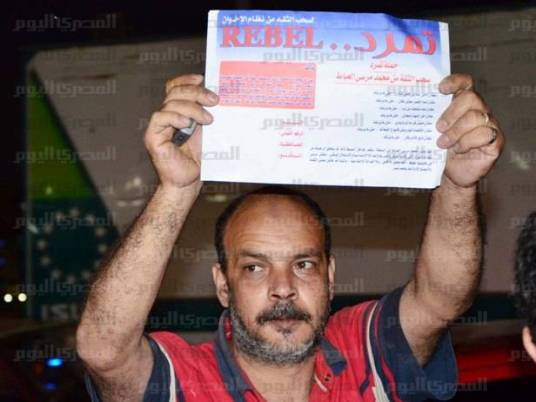 Tamarod campaign, in their bid to withdraw confidence in President Morsy and hold early presidential elections, has amassed a total of 7,054,535 signatures thus far.
Cairo was the most rebellious governorate, contributing 1,892,025 signatures, while residents in Giza provided 330,254.
The campaign gathered 492,922 signatures in Qalyubiya and 460,327 in Alexandria. Residents in Sohag added a further 90,490 signatures.
Daqahlia residents signed 1,154,056 petitions, Damietta 160,339, Suez 31,996 and Kafr al-Sheikh 61,186.
At a press conference on Wednesday, campaign spokesperson Mohamed Abdel Aziz said that ever since Morsy presented his platform to the country during the electoral campaign last year, the country "has moved from one failure to another, and from one crisis to another."
"We can no longer talk about giving him a second chance."
He added that "smear campaigns launched by the Muslim Brotherhood" will not undermine Tamarod. They will only help to demonstrate that "the Brotherhood fears that we will pull the rug from under their feet."
The campaign called for making 30 June "a watershed in the history of the Egyptian revolution."
It also demanded that the Egyptian people take to the streets that day and unite around the twin goals of forcing the current regime to resign and holding early presidential elections.
During the conference, the audience protested against Morsy and the Brotherhood, chanting "Down with the rule of the Supreme Guide."