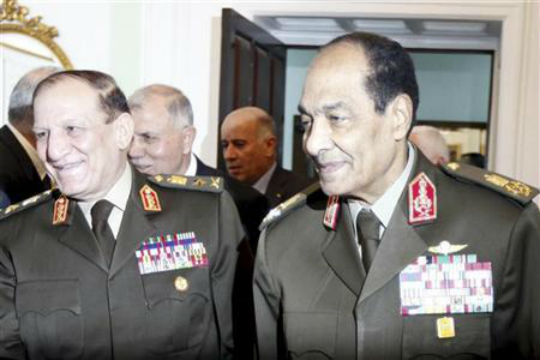 Supporters of Field Marshal Hussein Tantawi who have launched a campaign to convince the military council head to run for president called on all Islamic movements to renounce presidential hopeful Hazem Salah Abu Ismail.
The campaign issued a statement Friday saying "Abu Ismail has lost his credibility in the street and distorted the reputation of Islamists and the image of Islam domestically and abroad."
The statement rejected calls for a demonstration in support of Abu Ismail, saying, "The calls incite violence and anarchy in the state and are offensive to Islamists."
It called on the military police and the Interior Minister to enforce the law against demonstrators who deliberately harm the interests of other citizens.
The statement described the pro-Abu Ismail protest as "an indication of the primitive thought of those who called for it and a violation of the law." They called on protesters to wait for the decision of the elections commission.
The group Egypt Above All launched the "Field Marshal for President" campaign in late October supporting Tantawi for president, and posters of the field marshal appeared in Cairo and Alexandria.
The campaign sparked discontent among activists who worry that the military has political ambitions beyond the transitional period.
Translated from Al-Masry Al-Youm