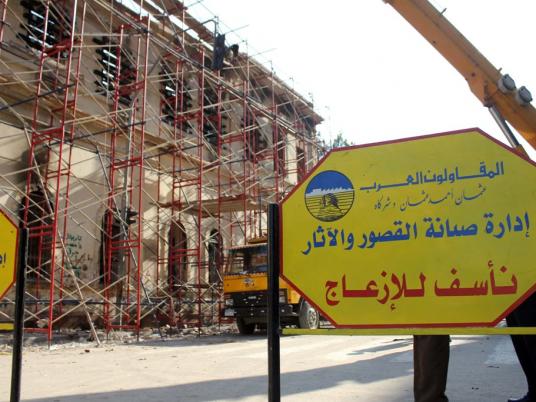 The Egyptian Scientific Institute will be temporarily relocated to Beit al-Sennary in Cairo's Sayeda Zeinab district until the original building is restored, Antiquities Minister Mohamed Ibrahim said Monday.
The institute, normally located on Qasr al-Aini Street, was burned on 17 December during clashes between protesters and security forces that left 17 people dead.
All the contents of the institute will be moved to the Beit al-Sennary location. A team of ministry restorers will restore the burned contents, Ibrahim said.
The Permanent Committee for Islamic and Coptic Monuments on Monday agreed to allow the use of two halls in Beit al-Sennary as a temporary headquarters for the Scientific Institute.
Beit al-Sennary was built in the Ottoman era and named after a Sudanase merchant, Ibrahim Katkhuda al-Sennary, who built the house in 1794.
During the French expedition in 1798, the house became the residence of French scientists who converted it into a research center where "Description de L'Egypte" was compiled.
Ibrahim said Beit al-Sennary was chosen as a temporary headquarters because of its beautiful design.
Translated from Al-Masry Al-Youm