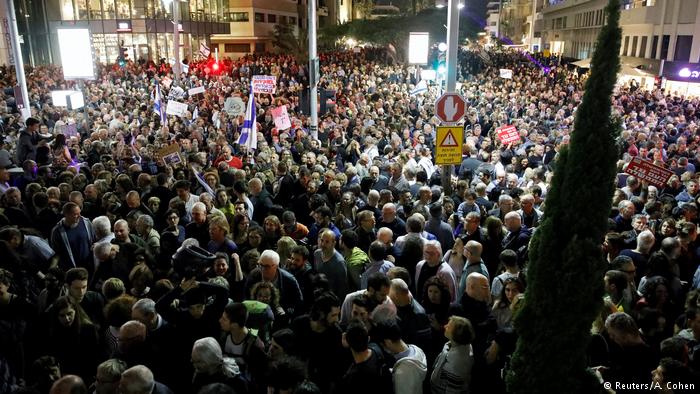 The protests in Tel Aviv on Saturday were the largest of the weekly gatherings against Prime Minister Benjamin Netanyahu, who is facing multiple corruption allegations.
The draft legislation would block Israel's police from publishing findings and issuing recommendations to the prosecutor's office on indictments related to public officials.
Supporters say the bill would protect suspect's rights, but critics have said the changes would only serve to keep the public in the dark on criminal investigations into Netanyahu.
The bill come ups for a second reading in the Knesset on Monday.
Case 1000, Case 2000
The prime minister is suspected of involvement in two investigations into corruption and abuse of office.
The first, known as Case 1000, involves allegations that Netanyahu received cigars, champagne, cash and other gifts from Israeli-born Hollywood mogul Arnon Milchan and Australian billionaire James Packer. The case also implicates his wife Sara and son Yair.
Netanyahu has said the gifts were tokens of friendship, and that no favors were done in exchange.
The second, known as Case 2000, involves allegations that Netanyahu sought to negotiate positive coverage with the owner of Yedioth Ahronoth newspaper in exchange for cutting circulation of the pro-Netanyahu Israel Hayom.
The free circulation Israel Hayom has become Israel's largest newspaper and is backed by US casino magnate and major political donor Sheldon Adelson.
Israeli newspaper Haaretz reported that the chance of an indictment against Netanyahu in Case 2000 increased after the prime minister's former aide, Ari Harow, turned state's witness.
Police have seized Harow's phone, which had recordings of conversations between Netanyahu and Arnon Mozes, the publisher of Yedioth Ahronoth.
Netanyahu: Allegations are a witch hunt
Netanyahu has said the allegations against him are part of a witch hunt carried out by his opponents.
If indicted, the four-term prime minister would be under pressure to resign or call new elections.
Several people close to Netanyahu have been implicated in other corruption scandals, including the so-called "Submarine Affair" and another involving the Communications Ministry and telecom giant Bezeq.
(AFP/Reuters)