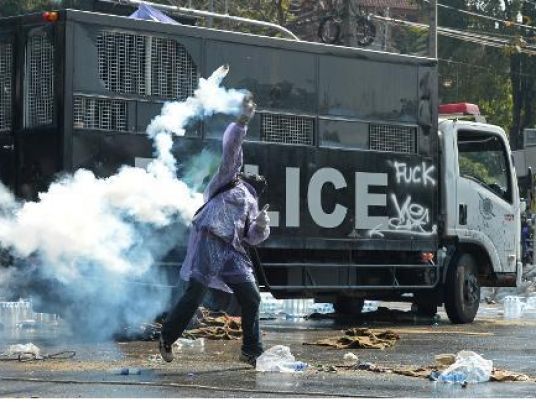 Thailand's Constitutional Court on Thursday deferred a ruling on whether a general election scheduled for 2 February can be postponed, as protesters who say they will boycott the vote kept up pressure on the government to step down.
Prime Minister Yingluck Shinawatra declared a 60-day state of emergency in Bangkok and surrounding areas from Wednesday, hoping to prevent an escalation in the protests now in their third month.
The Election Commission says the country is too volatile to hold a general election now and that technicalities mean it is anyway bound to result in a parliament with too few lawmakers to form a quorum.
The government says the decree to hold the election on that date has been signed by the king and cannot be changed.
"The Constitutional Court has accepted this case and we will look at the legal issues involved. If there is enough evidence, we may hand down a decision tomorrow," said court spokesman Pimol Thampithakpong.
The protests are the latest eruption in a political conflict that has gripped the country for eight years. The emergency decree failed to clear the demonstrators, though the capital has been relatively calm this week.
Broadly, the conflict pits the Bangkok middle class and royalist establishment against the mainly poorer supporters of Yingluck and her brother, ex-premier Thaksin Shinawatra, who was toppled by the military in 2006.
Nine people have been killed in outbursts of violence, including two grenade attacks in Bangkok last weekend.
A leading pro-government activist was shot and wounded on Wednesday in Thailand's northeast, a stronghold of the Shinawatra family, in what police said may have been a political attack, adding to fears the violence could spread.
A ruling in favor of the Election Commission would deepen Thailand's political quagmire, already weighing on investor enthusiasm for Southeast Asia's second-biggest economy.
The main opposition Democrat Party says it will boycott the vote. Protest leader Suthep Thaugsuban, a former Democrat minister, wants democracy suspended so that a "people's council" can push through electoral and political changes.
Thais living overseas have already voted and some advance voting takes place around the country on Sunday. The protesters have said they would try to disrupt the election.
Fears of election violence
On Wednesday, an unidentified gunman opened fire on Kwanchai Praipana, a leader of Thailand's pro-government "red shirt" movement and a popular radio DJ.
The attack in Udon Thani, about 450 km (280 miles) northeast of Bangkok, was the most significant violence outside the capital and illustrates the risk that the turbulence could spread to other parts of Thailand.
Just a day before, Kwanchai had warned of a nationwide fight if the military launched a coup, as widely feared.
So far the military, which has been involved in 18 actual or attempted coups in the past 81 years, has kept out of the fray. Police are charged with enforcing the state of emergency and are under orders from Yingluck to show restraint.
"We announced a state of emergency to help police do their work," Yingluck told reporters on Thursday.
"But given what happened in 2010 I don't want police to use force outside of the legal framework," she added, referring to a military crackdown that year on pro-Thaksin protesters during which scores were killed.
Army chief Prayuth Chan-ocha said this week his troops might have to play a bigger role if serious violence breaks out. "If such violence erupted and no one is able to solve it, the troops would have to step in and tackle it. We would look after our nation using the right methods," he told reporters.
The emergency decree gives security agencies powers to detain suspects, impose a curfew and limit gatherings. Some analysts said it was in part designed to give Yingluck legal protection if police step in.
Several governments have warned their nationals to avoid protest areas in Bangkok, among the world's most visited cities. China called on Thailand to "restore stability and order as soon as possible" through talks.