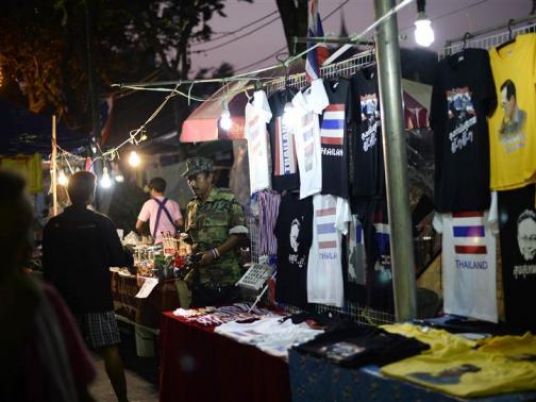 Thai anti-government protesters besieged polling stations in Bangkok Sunday and forced most to close, hampering advance voting for next weekend's election and deepening doubts about whether it can go ahead.
More than two million people are registered for advance voting before the February 2 election, which was called by Prime Minister Yingluck Shinawatra to try to defuse rising political tensions after weeks of mass anti-government protests.
Protesters descended on scores of polling stations in the Thai capital and several southern provinces, stopping ballot officials from entering and prompting election authorities to shut at least 45 venues.
Their action denied the franchise to thousands of registered voters and flouted a government-imposed state of emergency invoked to ease fears of violence in the run-in to next Sunday's poll.
There were no immediate reports of serious clashes but television reported minor scuffles between voters and protesters at some polling stations.
"Forty-five polling stations had to be closed out of 50 in Bangkok," said Surapong Tovichakchaikul, deputy prime minister and one of the main figures at the Center for Maintaining Peace and Order, which is handling the crisis.
Election Commission secretary-general Puchong Nutrawong earlier confirmed mass polling station closures after officials "could not go inside because of the protesters".
Away from the capital voting went ahead in 66 of the country's 76 provinces, including the ruling party's heartlands in the north and northeast.
Yingluck, who has so far refused to resign or delay the poll, is set to meet elections officials on Tuesday after the Constitutional Court ruled that the general election could legally be delayed because of the crisis.
While the protest augurs badly for next weekend's general election, Yingluck is likely to press on with the ballot regardless, according to Pavin Chachavalpongpun, associate professor at the Centre for Southeast Asian Studies at Japan's Kyoto University.
"I don't think it will increase pressure on her to postpone it… she wants to boost her government's legitimacy with a quick election," Pavin added.
The demonstrators, who have staged a near two-week "shutdown" of Bangkok to try to derail the vote, have rejected the election.
They had insisted they would not obstruct advance voters, although analysts have questioned whether the disruption is tantamount to intimidation of the electorate.
Advance voting is routinely offered for those who cannot cast their ballot on polling day. But Sunday's exercise was seen as a test of the prospects of holding next Sunday's vote peacefully.
Nine people have been killed and hundreds injured during nearly three months of protests that have sparked international concern and investor fears over the country's economy.
Deep divisions
Demonstrators want to topple Yingluck's elected government and install an unelected "people's council" to implement loosely-defined reforms which they hope will rid Thailand of the influence of ousted former leader Thaksin Shinawatra — Yingluck's older brother.
They say another poll victory for the ruling party will further embed the Shinawatra clan in Thai politics.
"I'm here to prevent people from voting," said 64-year-old Amornchock, giving one name, at a Bangkok polling station. "I'm not against democracy, I'm not against elections, but they have to be fair."
At another venue in the capital around a dozen frustrated voters said the poll closure amounted to an assault on their democratic freedoms.
"I came to protect my rights," said 75-year-old Vipa Yoteepitak.
"We can't let this happen, if we don't fight today (to vote), we will keep losing our rights."
Thais has been left divided by years of political turmoil that began shortly before Thaksin was deposed in a military coup in 2006.
The crisis roughly pits Thaksin's supporters from rural and urbanised communities in the north and northeast against his foes within the country's elite, the Bangkok middle classes and parts of the south.
The billionaire tycoon-turned-politician — who lives abroad to avoid a jail term for corruption that he says was politically motivated — has won every election since 2001 either directly or more recently through allied parties.
But his opponents accuse him of corruption, "vote buying" and pushing through expensive populist policies to strengthen his electoral position.