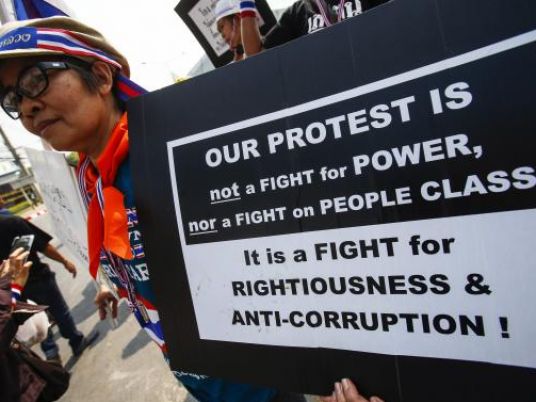 Anti-government protesters marched in Bangkok on Tuesday to drum up support for a rally at the weekend, just before Thailand holds elections for the Senate, which will play a central role in their aim of removing Prime Minister Yingluck Shinawatra.
The demonstrators led by Suthep Thaugsuban disrupted a general election for the lower house in February, which was annulled by the Constitutional Court on Friday, but they have no problem with Sunday's vote for the upper house.
"We will not block Sunday's Senate election, because we need to reform the executive and legislative branches and the Senate is key to our reform plans," Wittaya Kaewparadai, a protest leader, told Reuters.
Thailand has been in crisis since former premier Thaksin Shinawatra, Yingluck's brother, was ousted in a 2006 coup. The conflict broadly pits the Bangkok-based middle class and royalist establishment against the mostly poorer, rural supporters of the Shinawatras.
The turmoil entered a fresh phase in November, when anti-government protesters first took to the streets, with 23 people killed during the political violence over the following months.
Sunday's vote is to elect 77 senators for the 150-seat Senate. The rest are appointed, and a government attempt to make it a fully elected body was one of the sparks that set off the latest unrest in November.
The non-elected Senators are picked by judges and senior officials from agencies such as the National Anti-Corruption Commission (NACC), members of an establishment whom government supporters see as viscerally anti-Thaksin.
The protesters appear confident that Sunday's vote will deliver a Senate majority likely to impeach Yingluck after an investigation under way by the NACC.
Yingluck has until the end of the month to answer a charge of dereliction of duty over a ruinous rice-buying scheme that has run up huge losses and left hundreds of thousands of farmers unpaid. The prime minister is unlikey to attend the NACC hearing, and Yingluck's lawyers will probably present her defence.
"The NACC can't put a timeframe on how long it will take to decide whether or not to charge the premier. We have to wait until March 31 to hear how she defends herself," Vicha Mahakun, a commissioner and the agency's spokesman, told Reuters.
"We can't rush these decisions," he added.
The NACC is one of seven nominally independent agencies that belong to the executive branch but function outside the cabinet's authority. It has the power to investigate and impeach senior civil servants.
Setback for Yingluck
The impeachment process for Yingluck could take many weeks. Any decision to remove her would require the votes of three-fifths of the senators.
In a setback for the prime minister, Senate Speaker Nikom Wairatpanich, whom protesters accuse of siding with the government, was suspended from his post last week pending a Senate decision over whether to impeach him for cutting short a debate on amendments to the constitution.
His deputy, Surachai Liengboonlertchai, is looked upon more favourably by the anti-government side.
His role could be crucial if there is a power vacuum and he is asked to nominate an interim prime minister – a scenario that looks increasingly likely.
Yingluck has headed a caretaker government since dissolving parliament and calling a snap election in December. Now the February 2 election has been annulled, it could be many months before a new vote is held and a full government installed.
The protests in Bangkok appeared to be fading this month as the focus switched to the courts but, waving flags and tooting whistles, Suthep's supporters appear to have been re-energized by the Constitutional Court decision on Friday.
They plan a big rally in Bangkok on Saturday to press for political and electoral reforms before a new general election.
"We don't see any other way to improve Thailand except to set in motion reforms. We urgently need change before a new vote," Suthep told reporters on Tuesday.