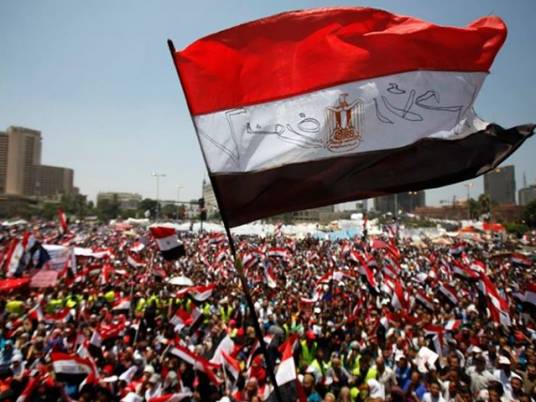 Thousands arrived in Tahrir Square on Monday morning to join the sit-in that has held the square since yesterday.
Protesters chanted "Sit-in until the regime falls" and "Leave, leave, leave!" while calling on Defence Minister Abdel Fattah al-Sissi to side with Egypt's so-called "second revolution."
Others chanted: "Say it, O Egyptian, Say it strong, the end will come tomorrow."
People's committees have been tasked with keeping the square secure, checking the IDs of those entering Tahrir while allocating other groups to clean the streets.
Many street vendors have joined protesters there.
Patriotic songs echoing through the square only added to the atmosphere, while marches passed through chanting slogans against President Mohamed Morsy and the Muslim Brotherhood.
Tamarod campaigners called on demonstrators in Tahrir Square, in front of the Ettehadiya presidential palace, and everywhere else around Egypt, to continue sit-ins and not be dragged into clashes with pro-government groups.
Nationwide clashes have already claimed the lives of 16 people, according to health ministry figures, nine of them in Cairo.
"The campaign condemns violence, and considers it an attempt by the Muslim Brotherhood to change the path of demonstrations and sit-ins away from peacefulness," Reham al-Masry, a member of Tamarod's central committee, said in remarks published Monday on the campaign's official website.
The campaign called on Egyptians to join marches at 5 pm on Tuesday, the deadline given for President Mohamed Morsy to stand down, under the title "The Day of the People."
Marches will head to the Qubba presidential palace, where President Morsy has been staying since Sunday, if the president refuses to hand over power peacefully.
Sit-ins in Tahrir Square and outside the Ettehadiya presidential palace will continue for the meantime.
Edited translation from Al-Masry Al-Youm