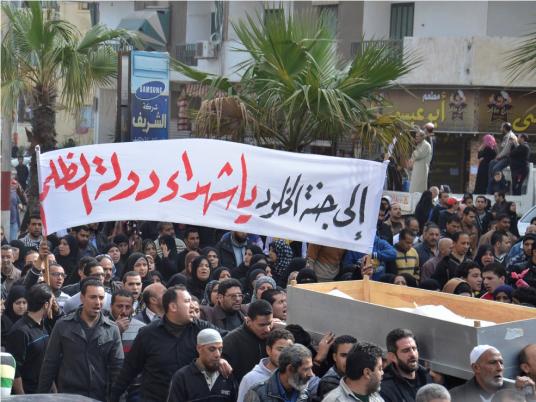 Thousands attended the Port Said funeral of Salah Abdel Azim, the 25-year-old who died Wednesday of blood poisoning after being shot during clashes.
Abdel Azim is the 48th victim of Port Said violence, which sparked following a ruling sentencing 21 defendants to death over a football riot last year.
Mourners chanted "The people want to bring down the government" and "As long as the Egyptian blood is cheap, down with the president."
His cousin Waleed al-Game'y said he witnessed Abdel Azim being shot in the back by a police sniper during the clashes.
Abdel Azim had been admitted to the Mansoura University Hospital for 54 days.
More than 70 Ahly Club fans were killed during the Port Said football stadium massacre last February.
The 47th victim died in a Zagazig hospital on 16 March after being hit in the head by a tear gas canister at close range during clashes in the canal city.
Edited translation from Al-Masry Al-Youm