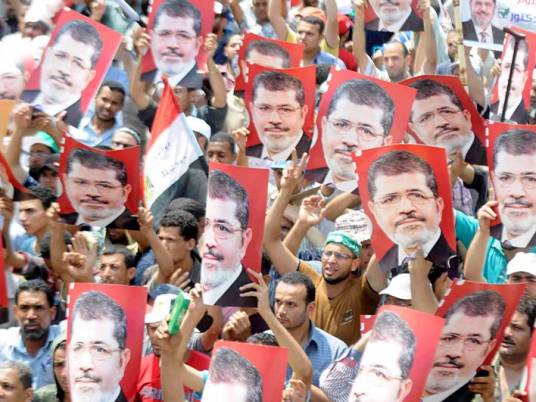 Thousands staged a march from al-Estiqama Mosque to al-Nahda Square in Giza to demand the return of President Mohamed Morsy to power after being toppled several days ago by army commanders.
The demonstrators denounced the statement from the General Command of the Armed Forces, chanting: "Down with Sissi, "Down with the military rule," and "Islamic."
They held up images of Morsy, as well as banners condemning the recent decisions taken by the armed forces.
At the Estiqama Mosque, the imam avoided talking politics during the sermon and concluded with prayers for Egypt.
In Alexandria, north of Egypt, a march kicked off after Friday prayers from Qaid Ibrahim Mosque in support of the roadmap announced by the armed forces, as people waved Egyptian flags and chanted slogans in favor of the army's leaders.
Morsy supporters, meanwhile, gathered in Alexandria's Martyrs' Square in preparation for marches calling for the return of Morsy to the presidency, as protesters assert that he is the legitimate president of the country.
Thousands of supporters in Luxor, in Upper Egypt, also staged marches after Friday prayers, demanding Morsy's reinstatement and chanting slogans such as, "Down with military rule" and "Islamic."
Morsy supporters marched on Mansheya, Salah Eddin, Television, and al-Madina street before heading to the Security Directorate of Luxor, where strict security measures are in place.
The president's supporters also rallied in Gharbiya Governorate, about 100 miles north of Cairo, to demand that Morsy return to the presidency.