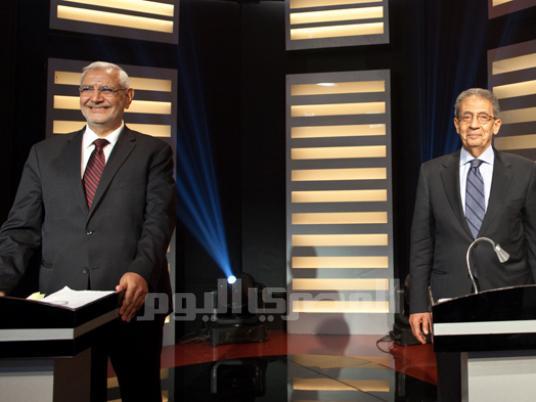 Candidates Amr Moussa and Ahmed Shafiq are in first and second places respectively for the presidential election slated for Wednesday and Thursday, according to a poll published Saturday in state-owned Al-Ahram newspaper.
The two candidates were both longtime ministers in the government of ousted leader Hosni Mubarak.
Al-Ahram Center for Political and Strategic Studies conducted the poll. A poll it published on 14 May showed the same results.
Although Moussa is still in first place, he has lost a lot of support, according to the new poll, conducted between 14 and 17 May. Moussa had enjoyed 40 percent over the previous three weeks, but in this poll, he secured 31.7 percent — the biggest percentage a candidate lost in that length of time.
Shafiq kept in second place with an increase of 2.7 percent, winning 22.6 percent in the most recent poll.
The poll also showed the progress of Muslim Brotherhood candidate Mohamed Morsy, who reached third place for the first time with 14.8 percent of the votes.
Abdel Moneim Abouel Fotouh fell back to fourth place with 14.6 percent of the votes, marking a loss of 3.2 percent.
Support for Nasserist candidate Hamdeen Sabbahi jumped by 4.7 percent from previous polls, which placed him at around 7 percent.
The poll was conducted through personal interviews with 1,200 participants from different segments of society, except the governorates of North Sinai, South Sinai, Matrouh, New Valley and the Red Sea.