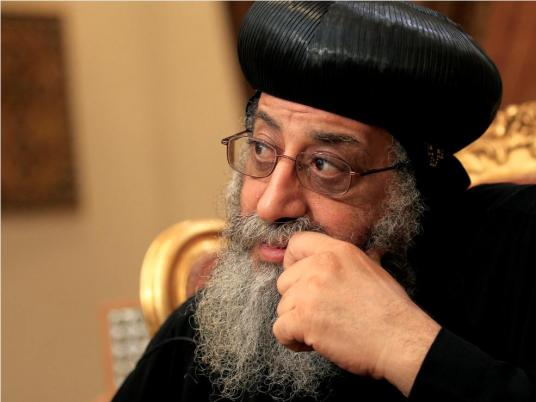 Pope Tawadros II visited the Al-Mahraq Monastery in Assiut on Monday to attend the sixth conference on the Coptic history of monasticism.
Held from 4-10 February, around 100 researchers of Coptic monuments attend the conference, in collaboration with the Priest Mar Morqus Institute for Historic Studies as well as Egyptian universities and US institutions, said Bishop Pachmious al-Mahraqy.
The pope was greeted by priests and bishops from the monasteries of Al-Marhaq, Minya, Sohag and Qena. This is the first time the Coptic pope as visited Al-Marhaq Monastery in over 30 years.
Following prayers in one of the Coptic world's oldest churches, Tawadros said he was happy to visit Assiut and hoped to make regular visits to all the nation's monasteries, spending a night in each one.
The monastery's church is said to have been founded by Jesus Christ, and is a major pilgrimage site for the Coptic community. A security source told Al-Masry Al-Youm that the monastery is located in the Qesqam Mountain area and is completely surrounded by fences.
There was tight security at the entrances and exits to the al-Qouseyya municipality as well as on the road leading to the monastery ahead of the two-day visit, which ends on Tuesday.
"Security forces diverted traffic on roads leading to the monastery and neighboring villages, [to prevent] accidents," said the security source.
Edited translation from Al-Masry Al-Youm