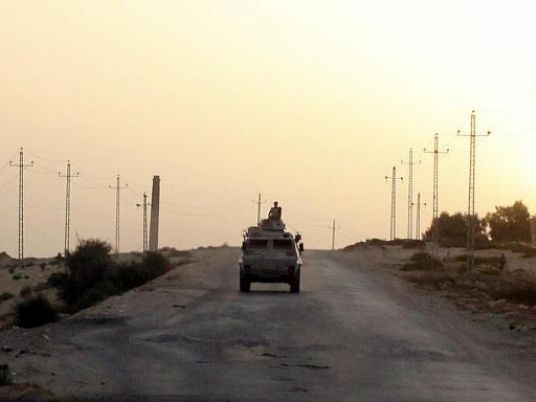 Tight security measures have been imposed in North Sinai in case of terrorist attacks amid celebrations for Egypt's victory in the 6th of October War.
Security measures have been applied at the entrances and exits to the governorate, according to various sources and eyewitnesses. Several security checkpoints have been set up, with vehicles and passers checked. Passengers traveling along roads in North Sinai have had their identification documents checked. Meanwhile, a large security presence has been witnessed in all towns and cities in the governorate.
Extra troops have been deployed in the cities of Arish, Rafah and Sheikh Zuwayed, as well as along main roads.These include roads in Arish, Sheikh Zuwayed and Rafah, and the Arish-Lahfan Road.
Naval forces have been stationed in the Mediterranean near to Arish, Rafah and Sheikh Zuwayed to prevent any terrorists sneaking into Sinai by boat.
Troops have also been deployed to watch the border with Gaza, while others have been searching houses in Arish to arrest Palestinians who are staying illegally, the sources said.
Measures have also taken around key establishments in North Sinai, including police stations, in addition to squares. Security personnel have been on the look out for suspicious objects that might be bombs close to security establishments.
Security raids have been launched in all North Sinai cities in collaboration with police and Central Security Forces to arrest suspected members of insurgent groups.
Egyptian mlitary and security forces are engaged in an ongoing battle with insurgents in North Sinai. Insurgents linked to terrorist organisations such as the Islamic State routinely conduct bombings, ambushes, assassinations and drive-by shootings aimed at military and police personnel.
The military and security forces have conducted numerous raids and offensive operations against the insurgents, including several phases of Operation Martyrs' Right, which includes forces from all branches of the military.
Edited translation from Al-Masry Al-Youm