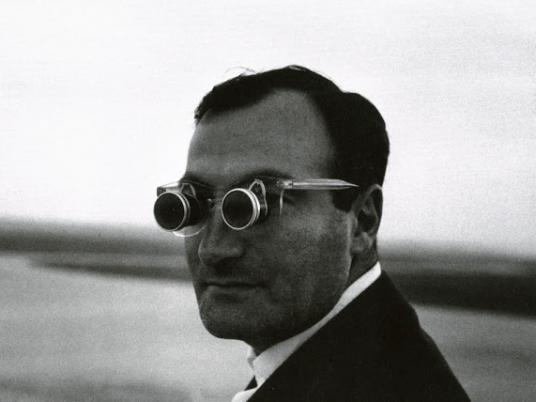 Azin Feizabadi is in Cairo, hosted by the art initiative Beirut. His presence is visible as you approach Beirut's villa in the form of seven ghostly, punkish flags hanging on posts from its roof. They are white and have round holes cut out of their centers.
They are one of three activities the artist — based in Germany but born shortly after the 1979 Iranian revolution in Tehran — is showing while he is here. Another is a page in last week's print edition of this newspaper, mirroring an article on the opposite page, but with text by Naira Antoun imagining Egypt 30 years after the 25 January revolution and a blank image. The third was an intense evening last week when Feizabadi screened three films by other people and gave a lecture performance titled "A Collective Memory: Poetics, Politics & Love Letters."
The first two films were very different from each other but shared images of familiar violence. The World War II ruins presented as a post-nuclear war future in Chris Marker's legendary "La Jetee" (1962), and its helpless prisoner being submitted to a weird torture, are similar to images circulating on a daily basis in Egypt now. The prisoner is injected with a time-travel substance that compels him to follow a visual childhood memory. The film is cold and romantic at the same time.
The second film, "Iran: A Revolution Betrayed" (1983), is largely comprised of footage shot by Ahsan Adib before and during the 1979 Iranian Revolution, and has a great explanatory voice over. Its images are strangely similar to those seen in Cairo over the past two years: hope and liberation as people take to the streets, disbelief and disappointment as they fall in the face of regime gunfire, tanks in the streets, joy as the leader leaves office, more disappointment, more marching, economic disintegration, protesters fighting protesters, gunfire from a different regime. Meanwhile, the Iranian shah looks like the mad scientist in "La jetee."
The film's action also zooms back in time to August 1953 — with news footage declaring "The Shah Returns in Triumph!" — when a military coup backed by US and UK spy agencies overthrew an elected government to reinstall the shah, leading to an authoritarian regime complete with sinister secret police. It shows his 1967 coronation, then former US President Jimmy Carter giving him uneasy support in a televised toast in 1977 despite increasing human rights violations under his rule. Later, it shows the ousted shah being welcomed in Egypt, and the 1979–1981 Iran hostage crisis under Ayatollah Khomeini, including a moment when protesters battle each other in Washington, DC, in a visual repetition of the violence in Iran (and recently in Egypt). The film ends with a forced confession of a boy apparently raped by an older man. We are told that he is executed two hours later for homosexuality.
In Feizabadi's lecture performance, between the second and third films, a sequence of statements, anecdotes, projected images, film clips and music draw out the concerns behind the films' selection. The performance is a work Feizabadi has shown before, but is particularly apt for this moment in Egyptian history. "Personally and emotionally, it means a lot to me to put [these thoughts] on stage at this time," he said.
The artist's ongoing project, "A Collective Memory," of which the three Beirut projects are a part, is a response to the June 2009 Green protests in Iran — what Feizabadi called a continuation of the 1979 revolution on its 30th anniversary. Reading out what sounded like personal letters, Feizabadi suggested that uprisings in the Philippines, Romania, Tunisia and Iran (and presumably others too) were somehow reiterations of the first film screening, held in Paris in 1895. He explained that watching the Lumiere brothers' first film — 46 seconds of workers leaving the Lumiere factory — at the Grand Cafe in Paris, bourgeois witnesses watched the poor in action for the first time.
He said that protest is a gesture, a dramatic statement. The moment people take to the streets, making (private) individual yearnings public, is thus aesthetically choreographed. Despite, or because of this — it wasn't clear — there is a tendency to lose sight of the individuals and focus on a narrative, which, in the case of the 1979 revolution, became the Islamic Republic's. "We put desire of the unknown into myths," Feizabadi said, as "truth never has been as beautiful as fiction." He showed official images of the Iranian revolution on one side of the screen, while amateur snapshots, all people taking photos of themselves, appeared on the other.
This need to break the dominant image and be reminded of the diverse and unknown factors behind people's separate decisions to protest was addressed by the final film showed. Abbas Kiarostami's "First Case, Second Case" was also made just before and just after the 1979 revolution, but was banned after its 1982 premiere in Tehran and disappeared, only to mysteriously reappear on YouTube in 2009 ("projecting its urgency into 30 years," said Feizabadi, evoking a kind of time travel).
In the film, figures from a cross section of Iranian society comment on a situation in which a teacher sends a group of children out of class for a week because he can't figure out which one is being disruptive. If they name the culprit, they'll be allowed back in. The commentators talk of resistance, of solidarity, and of the destruction of society by the creation of the secret police service under the shah. The majority feels that the students should stick by each other, and many condemn the teacher. A seemingly simple film with a seemingly innocuous topic, Feizabadi suggested that its banning and its resonance with the 2009 protesters were due to its reflection of the real circumstances behind the revolution, individualizing it and countering the official narrative.
The film relates to Antoun's article, which imagines discussions about Egypt's future education system in a surprisingly realistic way (apart from a few details, you might think it was now). Feizabadi said the newspaper intervention was an attempt to think about how Egypt's revolution is going to be worked through, and to show that it needed protecting.
The flags (titled "Physical Principles of the Choice of Red, Green & Blue") symbolize the moment when a people remove a symbol from their flag, that moment of opportunity when an authoritarian regime is overthrown. They are also somehow meant to suggest in-between time, "when past and present change their meaning." The missing circles are being concurrently exhibited as part of a show at Germany's Galerie im Kornerpark featuring Feizabadi and artist Farkhondeh Shahroudi, who is his mother. The flags are visible above Beirut in Cairo until 25 February.
The lecture performance ended with an excerpt from "Symphony No. 11, 'The Year 1905'" by Dmitri Shostakovich, dedicated to the suppressed 1905 Russian revolution but written after the failed uprising in Budapest in 1956. Talking about it, Shostakovich, who was born shortly after the 1905 uprising, mentioned a recurrent cycle: suffering under authoritarian regimes, periodically protesting, being betrayed. Denying the people might temporarily work, but eventually incites more cycles of violence.
We do not have to be depressed by this recurrence, though, Feizabadi's films and lecture seemed to suggest, because the recurrence itself and the poetic approach manifest in his threefold activities, and in "La jetee," put forward the idea that there isn't just a before the event, an event, and an after the event, but that time is more mysterious and flexible.
This piece was originally published in Egypt Independent's weekly print edition.