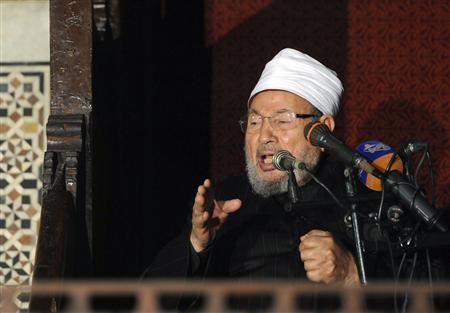 Senior figures from the outlawed Muslim Brotherhood are struggling to preempt a possible breakdown of the 87-year old organization caused by a leadership struggle between its elders and youth.
Brotherhood sources have said that Youssef Nada, the organization's former foreign affairs commissioner, and Youssef al-Qaradawi, a prominent group supporter and a Qatar-based preacher, are in talks with top leaders to mend the growing rift which has seen the younger cadres planning elections for the organization's top board.
According to the sources, the pair is in contact with acting Supreme Guide Mahmoud Ezzat and the so-called, youth-led "Administrative Commission", the latter which has called for allowing younger figures to lead the organization.
Ezzat, sources said, has rejected a dialogue with the youth front until it stops making statements in the organization's name. He also demanded that the youth "hand over the media outlets it dominated over the past period", referring to the Brotherhood website the younger leaders took over forcing the older guard to build their own website.
Meanwhile, Essam Tallima, a Brotherhood member, said the group is in need of a new by-law and Guidance Bureau.
Edited translation from Al-Masry Al-Youm