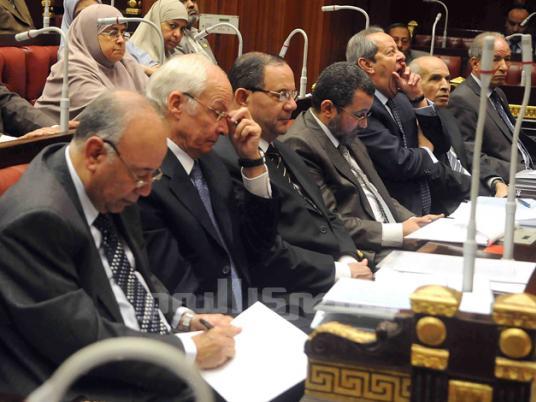 The commissioners of the Supreme Constitutional Court are currently preparing a final report on the parliamentary elections law, to advise the court's decision on whether the Shura Council is dissolved, said the court's spokesperson Thursday.
The parliamentary elections law covers both the People's Assembly and Shura Council elections. However, challenges to both legislative bodies must be brought in separate lawsuits, which is why only the People's Assembly was dissolved when the Supreme Constitutional Court ruled it unconstitutional on 14 June.
Court spokesperson Maher Samy denied news reports' claims that the commissioners report would invalidate the Shura Council elections because they suffer from the same legal flaws as those of the People's Assembly. He said the report is still being prepared.
If the court rules the parliamentary elections law unconstitutional again in this case, the Shura Council, which is now dominated by the Muslim Brotherhood's Freedom and Justice Party, will also be dissolved.
Samy did not set a date for the completion of the report, saying no one could dictate a date to the commissioners. He added that once the report is finished, it will be officially handed over to Maher al-Beheiry, head of the Supreme Constitutional Court, after which the court will set the date for the appeal.
However, a lawyer with the Court of Cassation and Supreme Administrative Court, Adnan al-Mukhtar, also known as Adnan al-Shoqairy, said he had received a notification from the court's commissioners informing him that a date for the Shura Council case decision had been set.
Shoqairy had filed a lawsuit with the Supreme Administrative Court to demand the dissolution of the Shura Council, but the case was rejected. Then he filed an appeal with the court, which referred the case to the Supreme Constitutional Court.
Shoqairy, who was a losing candidate in the Shura Council elections, said the commissioners had set a court date for 2 September. He told state-run newspaper Al-Ahram on Wednesday that "this is the first step on the road to dissolving the [Shura] Council."
The Shura Council, the upper house of Egypt's Parliament, was created in 1980 and is composed of 264 members.
Edited translation from Al-Masry Al-Youm