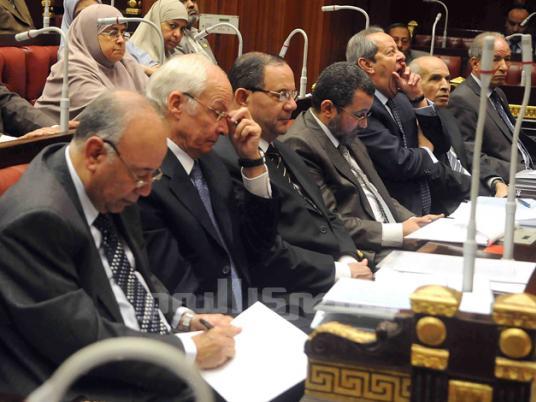 The Supreme Constitutional Court will delay consideration of a lawsuit demanding the dissolution of the upper house of Parliament until a report by the court's commissioners is completed on 17 September.
The commissioners of the Supreme Constitutional Court, a legal advisory body, are currently preparing a final report on the constitutionality of the law that governs parliamentary elections. The purpose of the report is to advise the court's ruling in the case, filed by a losing candidate in elections for the upper house, the Shura Council.
The court had earlier ruled against the law that elected Parliament in a separate case filed against the lower house, the People's Assembly. That ruling led to the dissolution of the People's Assembly, deciding that its elections were unconstitutional.
However, challenges to both legislative bodies must be brought in separate lawsuits — though they were both elected according to the same law. Therefore, only the People's Assembly was dissolved when the Supreme Constitutional Court issued its ruling on 14 June.
Muslim Brotherhood lawyer Abdel Moneim Abdel Maqsoud demanded the case be halted until the court considers an appeal against its earlier decision on the People's Assembly. He said any case should not rely on a court ruling that is under judicial dispute.
Abdel Maqsoud, along with Brotherhood members Mohamed Toson and Nasser al-Hafy, demanded a certificate from High Judicial Elections Commission stating that the candidates who won in the Shura Council elections in Luxor against Adnan al-Shoqairy, the man who filed the Shura Council lawsuit, do not belong to the Muslim Brotherhood's Freedom and Justice Party. They also demanded that the case be delayed until they receive this certificate.
Shoqairy, though, criticized the Brotherhood's claim that the candidates do not belong to the FJP. He demanded the dissolution of the Shura Council altogether, saying that independent seats should only have been contested by independent parties, not political parties. He said conducting the elections in this way violated the temporary constitution's principle of equal opportunity for all citizens.
Abdel Maqsoud told Al-Masry Al-Youm that demands to dissolve the Shura Council are "systematic schemes to destroy all the institutions elected by the people."
He added: "The court has the right only to rule that the legal provisions of the Shura Council are unconstitutional, but [the court] cannot dissolve it, since it is an advisory, not executive, entity."
Edited translation from Al-Masry Al-Youm