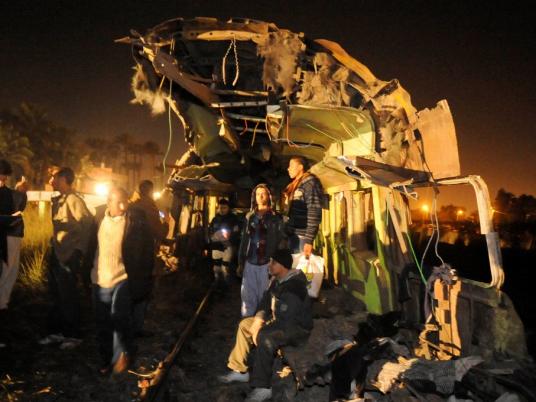 Transportation Minister Hatem Abdel Latif on Tuesday said he is "politically responsible" for the train wreck in the Badrashin district of Giza Monday that claimed the lives of 17 central security recruits and injured 117 others.
Abdel Latif stressed that he would not resign, as he was only appointed 10 days ago.
"This is an old inheritance. But as an official I'm also politically responsible," the minister said in an interview on privately owned Mehwar Channel. "The decaying situation that we have reached is a result of old accumulations." He added that he holds the former Mubarak regime responsible for the incident.
Abdel Latif said he is developing a plan for the maintenance and development of railway crossings, emphasizing that he would exert every effort to protect the lives of Egypt's citizens.
The Transportation Ministry is open to suggestions on how to improve the railway system, Abdel Latif said, mentioning that it has already received suggestions from youths.
When asked why poor people are more prone to fatalities in train wrecks, Abdel Latif said trains have a specific structure with varying seat classes, each of which have different maintenance standards. He stressed that the current railway system is an "old inheritance" from the Mubarak regime and said the Cabinet would try to reform its dismal conditions.
The president's office has announced that President Mohamed Morsy has ordered a review of existing plans for the railway sector and the submission of an operational plan to the national railway authority by next Saturday. The review will address the railway maintenance system and progress on the reconstruction and development of crossings, according to the office.
The announcement came after a meeting between Morsy, Prime Minister Hesham Qandil, the local development and transportation ministers, and the chairman of the national railway authority.
Edited translation from Al-Masry Al-Youm