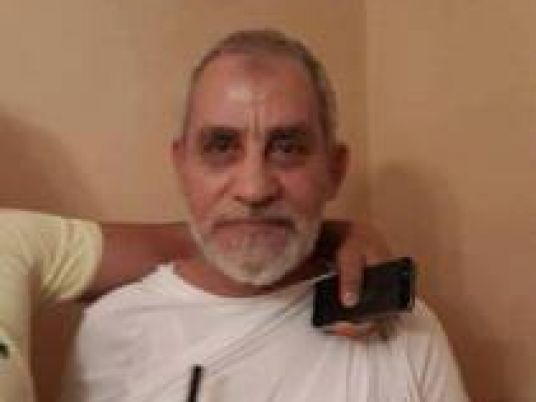 Shubra al-Kheima Criminal Court resumed on Wednesday trial of 48 suspects, affiliated to the Muslim Brotherhood, including Mohamed Badie, the group's supreme guide, over killing two persons, attempting murder of other six persons, damaging public properties, attacking policemen an blocking the highway in Qalyoub city in June 2013.
The session was started off with hearing the argument of the defense.
Among the suspects Safwat Hegazy, the pro-Brotherhood preacher, Mohamed al-Beltagy, Osama Yassin, Bassem Ouda, Mohamed abdel Maqsoud, abdel Rahman al-Barr, Abdullah Barakat, Mohsen Rady and other Brotherhood figures.
During the previous session, Badie commented on another verdict that he was handed in the lawsuit of breaking into al-Adwa police station saying that the verdict represent 'the last nail in coffin of the ruling coup authorities' and that he does not hesitate to 'offer himself as sacrifice for God and prophet'. The other suspects then shouted slogans against the military. The judge reponded saying "it' s not of our business. The prosecutor appealed the verdict issued yesterday."
Edited translation from Al-Masry Al-Youm