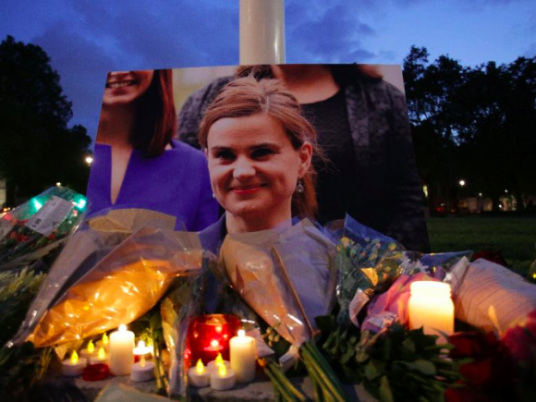 The man accused of killing British lawmaker Jo Cox repeatedly shouted "Britain first" as he shot and stabbed her in a murder that shocked the country, a court heard on Monday.
On the opening day of the trial of Thomas Mair at a London criminal court, prosecutor Richard Whittam said the 53-year-old was guilty of the "cowardly attack" on the mother-of-two on June 16, during the EU referendum campaign.
Cox, a 41-year-old member of the opposition Labour party and a vocal supporter of the EU, had been due to meet her constituents in Birstall, northern England, when she was attacked in broad daylight.
"As she arrived she was brutally murdered by one of her constituents, this defendant, Thomas Mair," Whittam said.
"Jo Cox was shot three times and suffered multiple stab wounds. During the course of the murder Thomas Mair was heard by a number of witnesses to say repeatedly 'Britain first'."
Witness Fazila Aswat told police that Mair shouted: "This is for Britain, Britain will always come first."
The prosecutor said the attack was premeditated "for a political and/or ideological cause", describing it as a "dynamic, fast-moving and shocking incident".
Mair, a gardener, appeared in court earlier in the day, confirming his name. Grey-haired and bearded, he wore a black jacket, an AFP reporter in court said.
At his first court hearing in June, Mair had been asked his name and replied: "Death to traitors, freedom for Britain."
A search of Mair's home in Birstall found items suggesting he had "strong political and ideological interests", as did a search history of computers used at the local library, Whittam told the court.
Mair had also accessed the Wikipedia page of "far right" online publication Occidental Observer and the Twitter and Wikipedia pages for Cox.
The court heard that Mair had asked the question "Is a .22 round deadly enough to kill with one shot to a human head?" during one internet search.
The killing of Cox, who had defended immigration and refugee rights, shocked Britain and led to a three-day suspension in campaigning ahead of the EU referendum one week later.
Mair denies Cox's murder, possession of a firearm with intent to commit an indictable offence and possession of an offensive weapon.
Cox's parents and sister were in court, which also heard that emergency services performed a thoracotomy as the MP lay in the street.
A 77-year-old local man, Bernard Carter-Kenny, was stabbed as he attempted to stop the attack.
The trial is expected to last for three weeks.