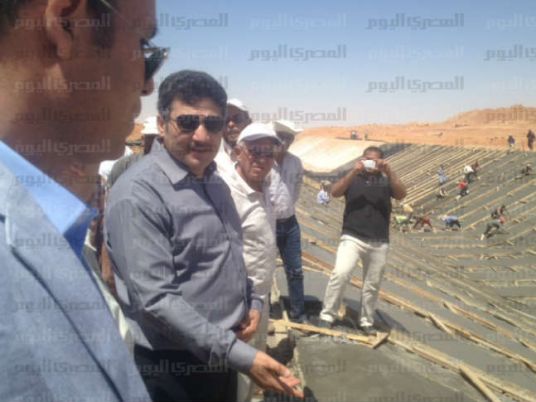 Water Resources and Irrigation Minister Hossam Moghazy said the tripartite committee on the Ethiopian Renaissance Dam will convene on Wednesday in the capital of Sudan, Khartoum, to evaluate the technical and financial offers made by four international companies to carry out technical studies required to reduce the negative impact of the dam. The winning company will be announced in mid-March, in accordance with the previously declared timeline.
In remarks on Sunday, the minister said that once the technical offers are reviewed, the financial one will be discussed in a ministerial meeting of Egypt, Sudan and Ethiopia, before the contract in signed in Addis Ababa, Ethiopia's capital, according to the roadmap established during the August ministerial meeting in Khartoum.
He added that the Irrigation Ministry has coordinated with Agriculture Ministry regarding the lands included in the one-million feddan project, which will be discussed during the economic conference in Sharm al-Sheikh this month. The investment project, which includes building a cableway in al-Qanater al-Khayriya and another one in the archaeological sites situated in the area, will be presented to the conference participants.
Meanwhile, the Ethiopian Minister of Water, Irrigation and Energy Alemayehu Tegenu said that he considers the Renaissance Dam to be a national project for his country, adding that "Ethiopia will never ask for the consent of any country to undertake development projects. Ethiopia is an independent country. Ethiopia will undertake its development projects in a way that does not cause any significant harm to any country."
In an interview with the Turkish Anadolu News Agency, Tegenu said his country is committed to its promise to Egypt not to harm Egypt's Nile water share, adding that construction works on the dam will not stop for a single moment.
He expressed sorrow over what he described as "getting Israel, US, Qatar and Turkey involved in the project,' saying all these rumors are aimed at denying that the Ethiopian national project is independent.
He also denied accusations over putting obstacles to the normalization of relations with Egypt and to reaching a broader bilateral political understanding. He called on Egypt and Sudan to sign the Entebbe agreement in order to unite the Nile basin countries.
Edited translation from Al-Masry Al-Youm and Anadolu Agency