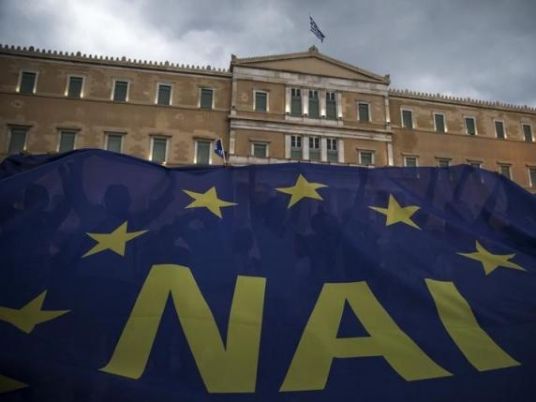 Greek Prime Minister Alexis Tsipras issued a resounding call for debt relief on Monday as his government unveiled an austere 2016 budget sticking strictly to international bailout targets in a new spirit of cooperation with European and IMF creditors.
The draft budget, released as Tsipras delivered his keynote four-year policy program to parliament, projected that the economy would stay in recession next year, shrinking by 1.3 percent after a 2.3 percent contraction in 2015, before returning to growth in 2017.
Tsipras, whose leftist government was re-elected on Sept. 20 after performing a U-turn and accepting a bailout of up to 86 billion euros ($96.1 billion) in return for spending cuts, tax rises and economic reforms under strict external supervision, told lawmakers he would bargain hard for debt relief.
The budget contained a total 6.4 billion euros of austerity measures this year and next, of which 4.34 billion will fall in 2016.
Euro zone finance ministers have agreed to discuss a limited debt restructuring, but not writedowns, if Greece successfully concludes a first review of the new bailout program by the end of this year, which entails passing far-reaching reforms of taxation, pensions and public administration.
Tsipras said the government would pass all the required laws to achieve a successful bailout review and open the door for debt renegotiations, which were crucial for economic recovery.
"We will propose an extension of (loan) maturities, a reduction of interest rates and a conversion to stable interest rates," he said.
"We will also propose a growth clause (linking the amount of debt service to GDP growth) and an extended grace period (on debt service payments) to create enough fiscal space to support investment activity and the restructuring of our welfare state."
The prime minister said the government aimed to restore capital market access within 20 months by the first half of 2017 and he expected economic growth to return by mid-next year. Economists say both goals seem optimistic if not impossible.
"The implementation of the bailout is necessary but it is not enough on its own. We need a web of parallel actions … in the next 20 crucial months to achieve our target of restoring liquidity and regaining market access," Tsipras said.
Shallower recession?
Although government officials are optimistic that this year's recession will be milder than projected in the bailout programme, due to an increase in tourism revenues and stronger than expected first-half data, any change in economic forecasts will only come when the final budget is adopted in December.
Government debt is seen rising to 197.7 percent of gross domestic product in 2016, including the new loans.
The document projected a 0.24 percent primary budget deficit – before debt service – this year and a surplus of 0.5 percent next. Greece is meant to achieve a primary surplus of 3.5 percent of GDP a year from 2018 under the August deal.
Athens wants to conclude the first bailout review and recapitalise its banks as soon as possible, hoping to lure back investors, Tsipras told lawmakers.
Diplomats and Greek officials say Tsipras and his Syriza party have decided to stop fighting the creditors for now and comply with the bailout in the quest for early debt relief and a return to economic independence.
Earlier, Finance Minister Euclid Tsakalotos met his euro zone counterparts in Luxembourg to discuss 43 reforms that Athens is meant to enact by mid-November to qualify for the next tranche of bailout funds and recapitalisation of its banks, severely weakened by deposit flight and capital controls imposed in late June.
Eurogroup chairman Jeroen Dijsselbloem said after the meeting he believed Athens was now serious about implementing the agreed changes. But it must win approval for the full package before ministers could move ahead with recapitalising Greece's four systemic banks.
Tsipras' policy statement was largely devoid of the swagger with which he vowed in January to roll back austerity and cast off dependence on bailout aid.
The more pragmatic re-elected leader, who trounced hard left rebels in last month's vote, controls 155 lawmakers in the 300-seat parliament and is sure of a confidence vote on Wednesday.
However, some leftists in his Syriza party remain reluctant to accept liberal market reforms of labour law, cuts in welfare and retirement benefits and sweeping privatisation of state assets, setting up tense votes next year.
With that in mind, Tsipras promised to find ways to ease the social pain that the bailout will entail for the poorest Greeks and vowed to negotiate better terms or find alternative measures for some of the unpopular policies sought by creditors.
Those areas included pension reform, the liberalisation of the energy market, restoring collective bargaining and a 23 percent tax on private education, he said.