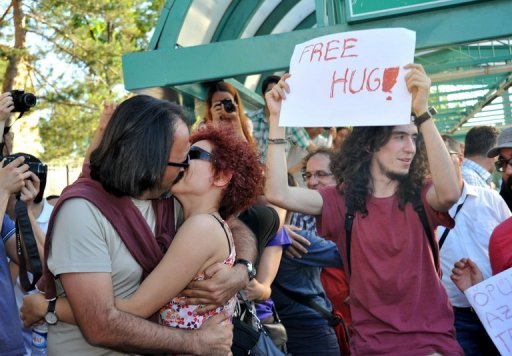 Turkey has met fewer than half the conditions for its citizens to be granted early visa-free travel to the European Union, just 10 days before a deadline for it to meet the requirements, an EU official told lawmakers on Thursday.
The EU promised last month to extend visa liberalization to Turkey by the end of June in return for its agreement to take back all illegal migrants who cross to Greece from its shores, provided it fulfilled all the so-called benchmarks.
The executive European Commission is due to report to member states and the European Parliament on May 4 whether Ankara has met the goals. It has set April 30 as a cut-off date for Turkey to pass the necessary measures.
Marta Cygan, a director in the Commission's migration and home affairs unit, told the European Parliament that Ankara now satisfied 35 of the 72 conditions in full or almost entirely.
"The Turkish authorities have definitely been accelerating the implementation of administrative and legal reforms allowing them to fulfill the requirements," she told lawmakers.
Visa-free travel for Turkey, a nation of 79 million, is contested in many of the 28 EU states, even though Turks would not be allowed to work or stay longer than three months.
Some fear it would open doors to more Muslim migration to a bloc already struggling with the biggest influx of refugees and migrants since World War Two.
More than a million people reached Europe last year, mainly arriving from Turkey to Greek islands in the Aegean. Eurostat said EU states received almost 1.26 million first time asylum applications in 2015, more than double the figure in 2014.
Syrians made up a third of the total, followed by Afghani and Iraqi citizens at 14 percent and 10 percent, respectively. Germany received some 35 percent of all requests for protection.
The data also showed a third of first-time asylum applicants were minors and more than 80 percent were aged under 35. More men than women were seeking asylum, Eurostat said.
Arrivals of migrants and refugees on Greek islands have dropped sharply since the EU-Turkey agreement went into force on March 21 and Brussels and EU capitals want to keep it in place. But Ankara has threatened to walk away from the deal should it not get visa liberalization in June.
Muddling through
The European Parliament and all EU states must approve any easing of visa requirements for Turkey. During the hearing, lawmakers insisted Ankara should only win the visa waiver if it fully satisfies all the criteria. Some also criticized the migration accord because of human rights concerns.
"I am personally very much in favor of visa liberalization with Turkey and many other countries. But we are mixing things up here. We have the migration agreement with Turkey and one does get the impression that we are selling ourselves here a bit," Dutch member Sophia in 't Veld said.
"Let's stick to the criteria we always apply because only then we will be credible to our own citizens and the Turks."
Cygan said Ankara had to share more information on fraudulent documents used to travel to the European Union, issue biometric passports and grant access to its labor market and other services to non-Syrian refugees seeking shelter in Turkey.
She added that a backlog of 140,000 asylum applications must be sharply reduced, that Roma people living in Turkey should be better integrated and that Ankara must establish an independent body to monitor for any rights abuses by law enforcement and state authorities.
Other obstacles include a condition demanding Turkey lift visa requirements on Cyprus, which Ankara does not recognize.
Rights groups say the migration scheme with Turkey may breach international humanitarian law, though no legal challenges have been made public so far.
Sinan Ulgen, a Turkey expert at Carnegie Europe, expected Brussels and Ankara would eventually fudge any shortcomings to keep alive the deal, which also promises Turkey more EU funding for refugees and a revival of its long-stalled accession talks with the bloc.