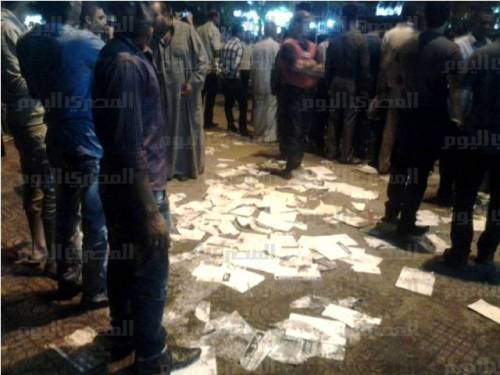 Twenty-five people were injured in Fayoum's Itsa City Wednesday in clashes between supporters of Egypt's Islamist President Mohamed Morsy and his opponents, medical sources told Al-Masry Al-Youm.
The clashes led to the cancelation of a symposium for Mohamed al-Beltagy, a member of the Freedom and Justice Party's executive office, which was expected tonight.
The clashes erupted when individual marches for each of the two groups faced off in the city.
Ayman Afify, one of the protesters against Morsy, said some Brotherhood members staged a Pro-Morsy march at the same time as an anti-Morsy march was being held.
Quarrels erupted between the two sides, then stones and sticks were used, leading many protesters to get injured, Afify said. The police then intervened and dispersed the crowd.
Afify accused members of the Brotherhood of attacking his brother Mohamed, a local coordinator of the Tamarod opposition campaign. He added that residents came to his aid.
Afify said that he had filed reports with the city against Brotherhood leaders, accusing them of assaulting the anti-Morsy protesters.
Meanwhile, Omar Youssef, an FJP leader in Fayoum, told Al-Masry Al-Youm that a group of "thugs" attacked a protest against violence staged by the Islamists.
After the protest ended, some "thugs" hurled stones at them. He denied that his side had caused any injuries and let it be known that a conference overseen by Brotherhood figure Mohamed al-Beltagy would be held next week.
Edited translation from Al-Masry Al-Youm