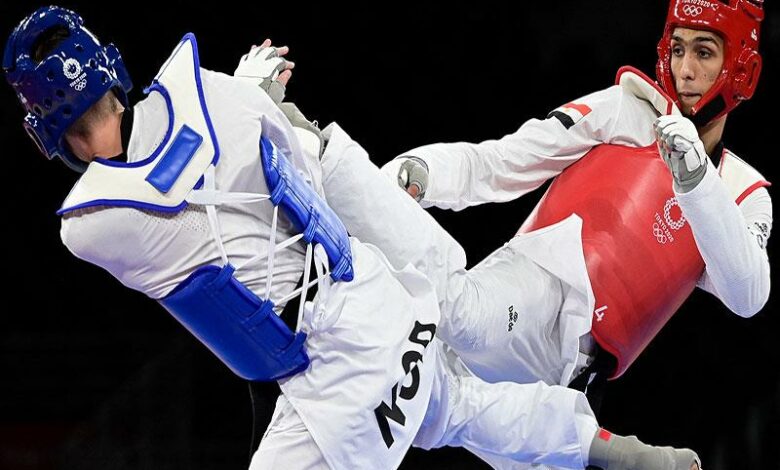 Two players from the Egyptian national taekwondo team, Hedaya Wahba and Seif Eissa, have won the bronze medal in the Tokyo 2020 Olympic Games.
Wahba beat American Paige McPherson (17-6), to win the third place and the bronze medal.
The Egyptian champion won the bronze in the Rio de Janeiro Olympics in 2016, and is the first Arab and African taekwondo player to win an Olympic medal.
Wahba has won many championships, exceeding 25 different medals, most notably the bronze in the 2016 Rio de Janeiro Olympics, two medals in the African Games, golds in the Grand Prix, bronze in the Mediterranean Games, as well as others in African championships.
Meanwhile, Eissa beat Norway's Andre Richard (12-4), to win the bronze medal.
The champion has had a successful career in African and international championships, as he recently won the gold medal of the African Taekwondo Championship after defeating the Morocco.
He qualified for Tokyo 2020 after reaching the final of the African qualifying tournament, which was held in Rabat.
Issa holds five titles from the Grand Prix Championships, the World Military Championships, the Mediterranean Championship, the World Team Cup, five medals in the African Championship and others.  He ranked No. 1 in the world in 2017, No. 4 Olympic player in 2018 and No. 7 current Olympian.
Edited translation from Al-Masry Al-Youm
IMAGE: Norway's Richard Andre Ordemann (Blue) and Egypt's Seif Eissa (Red) compete in the taekwondo men s -80kg bronze medal B bout during the Tokyo 2020 Olympic Games at the Makuhari Messe Hall in Tokyo on July 26, 2021.