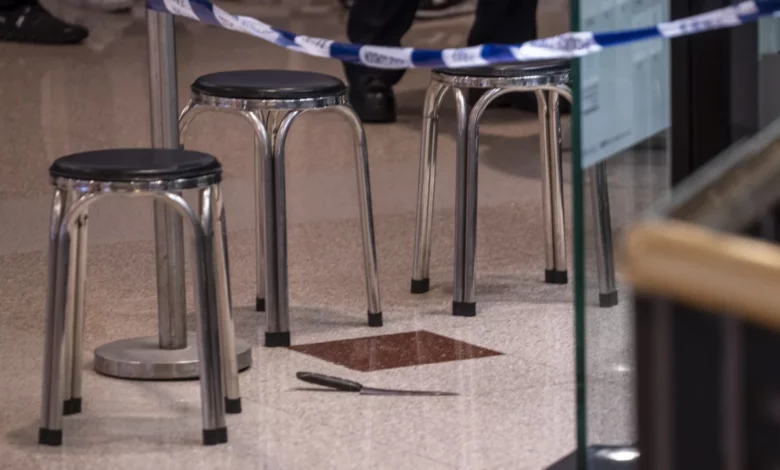 Hong Kong
CNN
 —  Two women have been stabbed to death in a Hong Kong mall in a frenzied – and apparently random – attack that has shocked a city where violent crime is rare.
Graphic video clips circulating on social media appear to show the attacker pinning one of the women to the floor and repeatedly stabbing her. They also show the woman's friend trying to fend off the attacker, without success. Though the footage does not show it, she too was later stabbed.
The two women, ages 22 and 26, suffered multiple wounds in the attack at the Hollywood Plaza mall in Diamond Hill on Friday afternoon and died after being taken to hospital, according to police.
Police senior superintendent Elieen Chung Lai-yee said the attacker – who does not appear to have known the two women – purchased the 12-inch knife used in the attack in the same mall, shortly before the stabbing.
"He walked around for a few minutes and then launched his attack on the first victim," she said.
Lai said the other woman came forward to stop him, but became a target herself.
"We found multiple knife wounds on (the two women) and they were bleeding profusely," she said.
Police said they had arrested a 39-year-old unemployed man on suspicion of murder and that the suspect has a history of mental illness.
The attack has shocked a city where violent crime of any sort is relatively rare, particularly so because of the apparently random nature of the incident.
The city sees only a few dozen homicides each year, compared to several hundred in New York. And it recorded only 77 robberies last year – compared to more than 17,000 in New York and 24,000 in London.
On Saturday, some members of the public left floral tributes at the mall, which is in a largely residential area in the north of the city.
The city's leader, Chief Executive John Lee, said in a statement on Saturday that he was saddened by the attack and had sent condolences to the families of the two women.
Lee, a former police officer, also urged citizens to stop sharing footage of the attack online and said members of the public should "seek professional support if they experience any emotional distress."
"This is an isolated case," Lee said.