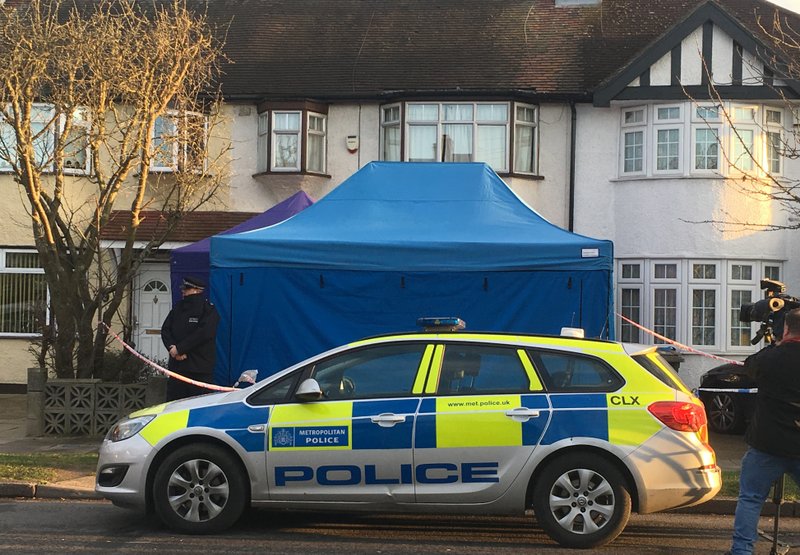 British counterterrorism police on Tuesday took charge of the investigation into the death in London of a Russian businessman because he was connected to a prominent Kremlin foe.
The death of Nikolai Glushkov, confirmed by his lawyer in Russia, came a week after former spy Sergei Skripal was left critically ill from nerve agent poisoning in the city of Salisbury.
Police said there was no evidence to suggest a link to the March 4 poisoning of Skripal and his daughter Yulia.
Attorney Andrei Borovkov told Russian media outlets that Glushkov had died, but said he was unaware of the time and circumstances. Reports in British and Russian media said Glushkov, who was in his late 60s, was found dead at his home in southwest London.
London's Metropolitan Police force said it was investigating the unexplained death of a man found at a house in the New Malden area late Monday. It didn't release his name, saying formal identification had yet to take place.
Police said counterterrorism detectives are leading the investigation "as a precaution because of associations that the man is believed to have had."
Glushkov was an associate of Boris Berezovsky, a Russian oligarch and Kremlin critic who died in London in 2013. An inquest failed to determine whether he had killed himself or died from foul play.
Glushkov told The Guardian newspaper in 2013 he didn't believe Berezovsky's death was suicide.
"I'm definite Boris was killed," he said.
In light of the attack on Skripal, the British government said police will look again at the deaths of more than a dozen Russians, including Berezovsky.
Glushkov had worked for various Berezovsky enterprises including the car factory AvtoVAZ and flagship Russian airline Aeroflot.
He was arrested in 1999 and put on trial for embezzling $7 million from Aeroflot. In 2004, he was sentenced to three years and three months in prison, but released because of time served before and during his trial.
Russian media reported that Glushkov was granted political asylum in Britain in 2010.
In 2017, a Moscow court reviewed Glushkov's case and sentenced him in absentia to eight years for embezzling more than $122 million from Aeroflot.
Last year, Glushkov appeared on a list published by the Russian Embassy in London of Russians wanted for serious crimes and whom the UK had refused to extradite.
It said Russia had sought his extradition in 2015 "for committing a number of severe financial offences on the territory of Russia," but the British government refused.