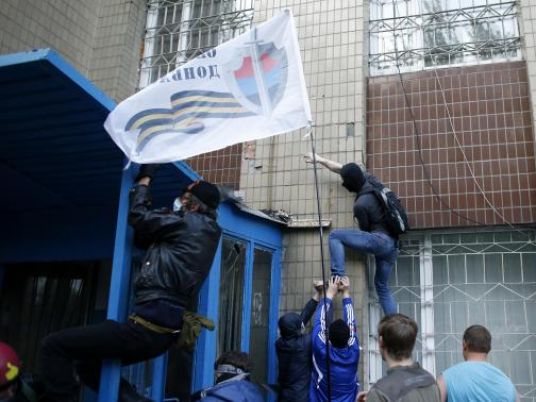 Ukraine scrambled fighter jets and combat helicopters to strike rebel gunmen who seized control of the main airport in the eastern city of Donetsk on Monday, triggering heavy gunbattles.
Thick black smoke was seen rising from the airport complex as the sound of explosions and heavy machinegun fire rang out, AFP correspondents at the scene said.
The fierce confrontation erupted after Ukrainian oligarch Petro Poroshenko, who claimed victory in Sunday's crucial presidential election, vowed to press on with an offensive against pro-Russian separatists waging a bloody insurgency across the east.
Scores of gunmen had stormed the airport early Monday in an apparent show of defiance after the election, which was rejected as illegitimate by the rebels who thwarted polling in large parts of the east under their control.
"After the expiry at 1:00 pm (1000 GMT) of an ultimatum (for the insurgents to leave) we launched an anti-terror operation," military spokesman Oleksiy Dmytrashyvskiy told AFP.
Another spokesman, Vladyslav Seleznyov, said on Facebook that Ukrainian forces were backed by Mi-8 helicopters filled with paratroopers, and fighter jets.
"First, SU-25 fighters fired a warning shot aimed at forcing the terrorists to fulfil our demands. Some of the gunmen began to panic," he said. "Then a MiG-29 delivered an air strike near areas where the terrorists had gathered."
All flights were halted out of the airport from early morning after the insurgents raided the strategic transport hub, which underwent a massive refurbishment for the 2012 European football championship.
It had been evacuated and sealed off after gunmen claiming to be from the self-declared "Donetsk People's Republic" showed up overnight demanding that Ukrainian troops guarding the perimeter be withdrawn.
'Suddenly two explosions'
The last scheduled plane allowed to leave was the 7:00 am (0400 GMT) flight to Kiev.
"We do not know when we will be up working again," airport spokesman Dmytro Kosinov said.
An AFP journalist saw three military trucks with scores of well-armed men in camouflage, some wearing pro-Russian ribbons and others with Cossack hats and beards, driving towards the airport through a traffic police checkpoint a few hundred metres from the main terminal.
"It was quiet and then suddenly two explosions and then another two — they seemed like they had been fired from a plane," said Maksim Bakhal, a worker at a cemetery on the edge of the airport.
"Then three helicopters flew over and they were shooting at them with machine guns," he said. "Then there was shooting from all sides — with heavier weapons and cannons."
Separatists in the heavily-Russified eastern rust belt of the ex-Soviet nation launched an insurgency against Kiev's rule in early April and have seized about a dozen cities and towns in the Donetsk and Lugansk regions neighbouring Russia.
Poroshenko, who is expected to be formally declared president after results showed him with a resounding win on Sunday, said there would be no let-up in efforts to crush the rebels.
"I support continuing the operation, but I demand that its format be changed," he said. "It must be shorter in terms of time-frames and more efficient."
He accused the militants of wanting to turn the region of nearly seven million people "into Somalia" and refused to open dialogue with the rebels until they laid down their arms.
"There are no talks with terrorists," said Poroshenko. "Their goal is to turn Donbass (east Ukraine) into Somalia. I will not let anyone do this to our state and I hope that Russia will support my approach."
'Not our president'
Rebels on Sunday blocked voting across most of Donetsk and Lugansk, two regions that together make up around 15 percent of the national electorate.
Several pro-Russian figures and rebel commanders said they did not recognise Poroshenko's legitimacy and would continue their independence fight.
"We consider that the winner of the election is president of west Ukraine — he is a half president," said Oleh Tsarov, a former member of the Regions Party of toppled pro-Russian president Viktor Yanukovych.
"Let the people who elected him recognise him but for us here he won't be our president," said pro-Russian shopkeeper Tetyana Krasikova.
"In the east his election won't change anything," she said. "The people have been too humiliated, too many have died to go back to the way things were."