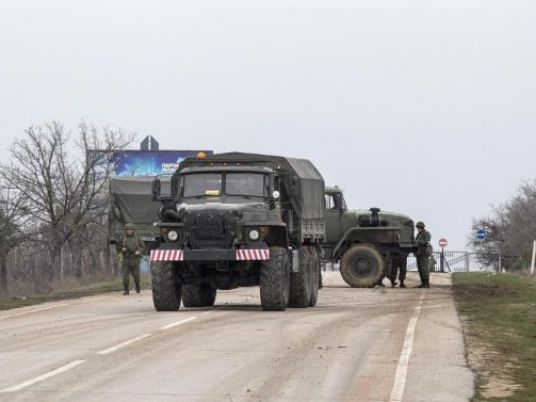 Ukraine and pro-Russian rebels "agreed in principle" on a ceasefire in one separatist province and were working to conclude a broader truce on Tuesday that would end nearly eight months of bloodshed.
The latest push for peace in the former Soviet country was being spearheaded by European negotiators alarmed at the unravelling of a September 5 peace deal as tensions between the Russia and the West reach a post-Cold War high.
The Ukrainian conflict has killed more than 4,300 people and seen NATO fortify defences to help protect former Soviet satellite nations from what it sees as the Kremlin's new expansionist threat.
Foreign ministers from the Western military alliance were meeting in Brussels on Tuesday to chart a course after what they have dubbed as a "year of aggression" by Russia against its smaller neighbour.
Moscow denies helping the separatists in eastern Ukraine and sees the West as trying to undermine Russia's rightful influence in the former Soviet bloc.
The Russian foreign ministry issued a furious statement on Monday accusing NATO of "trying to destabilise the world's most stable region" by sending extra defences into countries such as the three tiny Baltic states.
But the diplomatic standoff comes with Ukrainian President Petro Poroshenko — a pro-Western leader who won a May election vowing to reunite his crumbling state — facing growing domestic condemnation over the climbing toll of the war.
The Organisation for Security and Cooperation in Europe (OSCE) said that a round of unannounced negotiations produced the outlines of a truce agreement in Lugansk — one of two pro-Russian provinces under rebel control.
"All agreed in principle to a total ceasefire along the entire line of contact between Ukrainian Armed Forces and those under control of the (Lugansk People's Republic), to be effective from 5 December," the OSCE said in a statement released late Monday.
"They also agreed that the withdrawal of heavy weapons would start on 6 December," the statement added.
Lugansk separatist chief Igor Plotnitsky told the Interfax-Ukraine news agency that the talks were held on Saturday and produced a deal to establish a military buffer zone.
The cordon "will be 15-20 kilometres (9-12 miles) wide," Plotnitsky said.
– 'Very tense' –
The progress in Lugansk coincided with a new round of negotiations about a broader truce agreement between Ukrainian forces and rebels in the neighbouring industrial region of Donetsk.
The Donetsk city airport — held by Ukrainian forces since May — has witnessed months of often fierce clashes that have claimed civilian lives on an almost daily basis.
Ukraine's military said Monday it had agreed with a top Russian general the terms of a temporary truce for the territory surrounding the devastated air hub.
But a top Donetsk separatist leader told AFP that no final agreement was expected before all sides sat down for crunch negotiations on Tuesday afternoon.
The rebel source said the talks would involve senior Ukrainian military figures and General Alexander Lentsov — the deputy head of the Russian ground forces.
"They will concern an end to fighting in all the hotspots," the source said.
Yet several earlier truce agreements lasted no more than a few days.
The armed rebels are comprised of numerous units that often refuse to acknowledge the orders issued by their political leaders in Lugansk and Donetsk.
And Ukrainian forces include volunteer fighters — many of them hardcore nationalists who led protests in Kiev that toppled a pro-Russian regime in February — who reject truce terms that cede any ground to the separatists.
Heavy shelling echoed across Donetsk on Tuesday morning despite Ukraine's announcement of the truce at the airport.