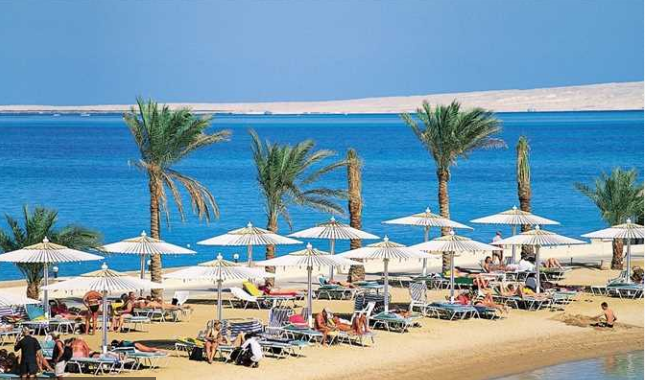 Head of the General Authority for Tourist Development Hisham al-Demeiry announced that four direct weekly flights from Kiev, Ukraine, to Cairo will resume from April, describing this as a great opportunity to present different destinations within Egypt to Ukrainian tourists, such as Luxor, Aswan, and Cairo – especially with the opening of Grand Egyptian Museum by the end of the year – reported Al-Masry Al-Youm.
The announcement came during Demeiry's participation in a major event organized by a tourism company in Sharm el-Sheikh, which included more than 200 tourism companies, Sinai Governor Khaled Fouda, Ukranian Ambassador in Cairo Hinadi Lani, as well as several investors.
Demeiry emphasized the importance of the Ukranian market for Egypt, a market which has recently witnessed a considerable development as Ukraine climbed to become one of the leading countries in the number of visitors to Egypt in 2017, making an impressive jump of 90 percent compared to the prior year.
Ambassador Lani, meanwhile, emphasized the strength of the ties between Egypt and Ukraine, saying that the Egyptian tourism file is currently one of the most important for the Ukrainian government.
He also expressed his joy in seeing the bonds of tourism evolve over the years as the Ukranian market achieved an impressive 750,000 tourists to Egypt in 2017.
Finally, he expects these ties to further strengthen after the Kiev-Cairo flight path resumes operation, as it will guarantee four weekly flights.
Egypt and Ukraine have been strengthening their tourism ties for years. In 2017, Demeiry said during his visit to Kiev that tour operators expect a 30 percent rise in tourist reservations during the winter season, compared to 2016.
Tour operators showed support for campaigns promoting tourist movement between Egypt and Ukraine, in addition to new opportunities that Egypt can benefit from by utilizing the Ukrainian tourist market over the next period.
The work paid off in 2017 as Ukraine began running charter flights in September and announced a direct flight between Kiev and Cairo to return April 2018.