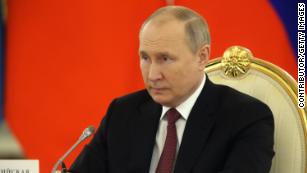 Russia is suffering from "systematic counterattacks" by Ukrainian troops in Kherson in the south of Ukraine, a statement from Operational Command South said on Friday.
"The enemy suffers from systematic counterattacks of our units," the statement said, adding that Russia brought in 27 infantry fighting vehicles by rail, and unloaded 40 kilometers (25 miles) from Kherson to support their operation.
Two civilians were also injured as a result of the "massive shelling" of the area of Novovorontsovka in the north of the Kherson region.
Russian troops "continue to try to hold the ground" in Kherson, a separate update from the Kherson Regional Military Civil Administration said, and at the border with the neighboring Mykolaiv and Dnipropetrovsk regions, "hostilities are taking place."
Residents of Kherson and some local communities have been without any internet or phone connection "for the fourth day in a row," the Regional Military Civil Administration said.
There is also information that "the occupiers in Kherson have seized passport services" and are now issuing Russian passports to residents, the update said.
In nearby Mykolaiv, Operational Command South said two people were killed and two others injured on Thursday after heavy shelling in the morning, afternoon and evening hit two high-rise buildings and four homes.
However Russia's "desperate attempt" to retake their lost positions around Mykolaiv "didn't succeed," Operational Command South said, adding that two Russian airstrikes also hit their positions, with no losses.
Northeast of Mykolaiv in the Kryvyi Rih area, Russian troops "intensified air reconnaissance and attempted assault operations," but the attempt was thwarted and they retreated to their former positions.