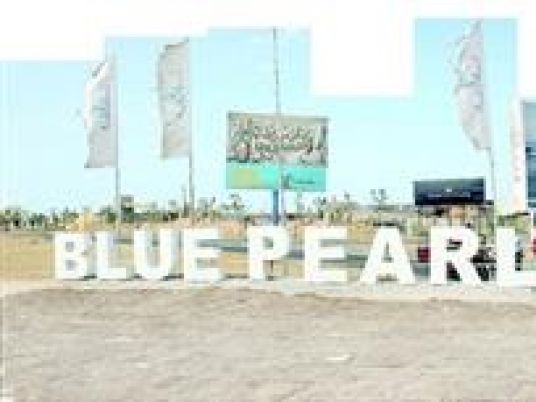 Advertisements have spread in newspapers and social media platforms for real estate units, coupled with huge banners and attractive photos in streets, malls and squares, but who can assure the public that when they fork over their hard-earned money that they are actually going to get what they pay for?
"Own a chalet in the North Coast on pituresque coasts and pay through installments. Take your vacation in the first phase until you get your unit in the second phase," read a banner, which is part of many other temptations offered by companies that have licences to work as real estate investment companies.
These ads stoke dreams of vacation homes, of less than 50 meters per unit or so in the North Coast, give unassuming customers the chance to flee from Cairo and relax in their summer dream home on the beach. The fraudulent companies then wait for customers to call and convince them to pay beforehand while they slowly collect massive amounts of cash for doing nothing. In reality, the vacation homes merely remain a figment of their imagination.
In a major newspaper, Al-Sayyed Hamed found an ad for a company called Themar for real estate investment in vacation units in the Blue Pearl resort in Sidi Abdel Rahman, North Coast. The company offered showed great flexibility in payments.
The company's ad noted that the resort is composed of 189 units with areas ranging between 50-70 meters "at the lowest prices, with payment options over five years without interest."
"I used to think that all advertisements in national newspapers or famous satellite TV channels should be true," said Hamed who thought of taking some cautious measures. He headed to Al-Lo'loa resort, which announced about the first phase in the ad. "I found it very classy. They said that the second phase would be even better," he added.
Hamed was amazed by the workers who appeared to be keen on the clients' interests. In September, he made the contract with Themar company, which received a LE97,000 deposit. According to the contract, construction of the resort should have started after Eid in October.
Many days had passed, while no indications for the beginning of construction were clear. When he asked, the company said construction will start in six months.
A few days later, Hamed found complaints filed by chalets owners in Lo'loa resort, which encouraged Hamed to buy, published in the same newspaper.
The complaints showed that the company published advertisements for imaginary resorts in the North Coast on units that sold out in 2000 and that they have a license to construct on the same site that Hamed contracted on.
Inquiring about truth of such advertisements and attempting to get his money back, the company deceived him saying that Lo'loa owners are fighting the second phase of Blue Pearl fearing that they would share the beach and facilities.
At first glance, Hamed was persuaded. However, reluctance in construction made him want to take his money back, but his efforts were in vain.
Salwa Ibrahim's situation was even worse. She saw advertisements by a realestate company called Honest, which mocked other fraudulent companies that fool people who try to buy vacation units. She received a LE79,000 loan from her bank to reserve a unit at Sama Marina 5, owned by the company.
Weeks later, she received calls from employees who quit their jobs at Honest to warn her against fraud carried out against clients. "Since then, I have been negotiating with them to get my money back. They offered me to get my money through cheques in return for ceding my contract, but I found out later that their cheques had no balance and that judicial decrees against them were not implemented, so I lost my money and now I'm paying the bank back with interest."
In an undercover operation, an Al-Masry Al-Youm reporter headed to Blue Pearl and introduced herself as a client. After waiting for 15 minutes at the reception and filling out an application form, she was taken to an office, where she was greeted by a woman in her thirties. Smiling, the woman asked about how she knew about the company and said that the second phase of Lo'lo'et Heliopolis is being prepared and that a partnership contract has been made between Themar and Lo'loa, adding that the project would be finalized in 2016.
Once the reporter inquired about the license numbers of land and construction, the smile turned into a request to pay beforehand no less than LE5,000 so they could verbally give the license numbers. The woman also completely refused to let the reporter review the terms of the contract saying, "Why should I show my company's documents without proving your goodwill and serious desire to sign the contract?"
However, the reporter was able to obtain the partnership contract between the two companies signed on 30 June.
According to terms of the partnership contract, the Lo'loa resort is owned by Mohamed Khaled Salah Eddin. The area of the resort is recorded at 66 acres, as per two selling contracts no. 266-267 for the year 1995. The area in the first contract reached 49 acres and 22 karates (210,000 meter square) purchased in 1995, while the area in the second contract was 10 acres and 8 karates (43,500 meter square) purchased in 1997. Thus, the total area of the resort should be 59 acres and 30 karates (almost 60 acres) not 66 acres as mentioned in the partnership contract.
The second term of the contract showed that the construction license no. is 303 for the year 1997 to construct Blue Pearl resort, without mentioning the first or the following phases, which means that the license should not be used to construct a new resort. It was also revealed that Salah Eddin modified the number of licenses used by Themar in the contracts signed with clients, which is 185 for the year 2002 indicating to the area at no more than 60 acres, which contradicts the partnership contract.
Upon verification with the Alameen city council of the license number given, it was revealed that the number was for a Qatari-Egyptian company, which is located elsewhere.
Searching about Themar, information showed that it is a new company established in April and that its official activities started in 20 April 2014, represented by Maged Mohamed Abdel Fadeel, who is a board member of Honest company, which the prosecutor received many complaints about.
A letter that dates back to 22 September 2014 from the head of the general department for licenses to Nasr City prosecution indicated that no licenses were found for Sama Marina or Honest to construct projects.
Several prison sentences were found out to be issued against Abdel Fadeel for signing cheques with no balance. Salah Eddin also had lawsuits filed against him over signing cheques without balance.
However, Marsa Matrouh governorate did not respond or show cooperation with the reporters and their comments. Major General Salam Tantawy, head of Alameen city council, said many companies have been recently announcing fake projects like Marsilia Beach and Blue Pearl, adding that they did not give any licenses to Themar or Blue Pearl.
"From my side, I have addressed the governorate demanding they warn people about companies that announce about fake projects through national newspapers so as to prevent more victims from falling in
to these fraudulent
practices
," he said, adding that he also addressed the central department for the General Authority for Roads, Bridges and Land Transport for west Delta and Alexandria to remove advertisements for such companies.
The law prevents announcing land projects before a copy of the decision certifying the project issued by authorities in question is recorded at a notary office. Governmental authorities should not announce the project before a decision certifying the work is issued. Violators should be fined and/or sentenced to prison, depending on the crime.
Despite confirmations by Tantawy that all advertisements for Blue Pearl were removed, a large banner was still there before Lo'loet Heliopolis resort, reading Blue Pearl in English.
Edited translation from Al-Masry Al-Youm