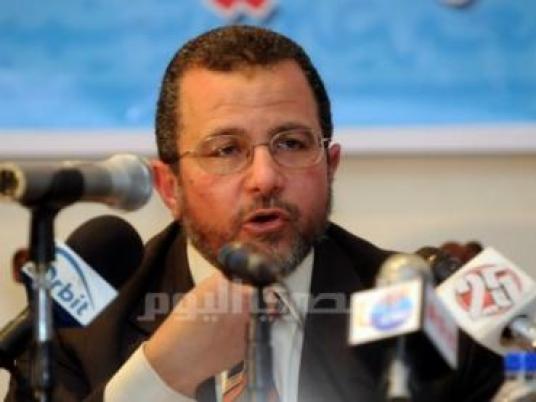 Ten new ministers have taken the oath of office before Prime Minister Hesham Qandil in a Cabinet reshuffle Sunday, following Morsy's announcement of a new Cabinet in December after the new Constitution was passed.
The new ministers include Morsy Hegazy as minister of finance, Mohamed Ali Beshr as minister of local development, Hatem Abdel Latif as minister of transportation, Omar Salem as minister of legal affairs and parliamentary councils, Ahmed Imam as minister of electricity, Mohamed Ibrahim as interior minister, Bassem Kamal as minister of supply and social affairs, Khaled Mohamed Fahmy Abdel Aal as minister of environment, Atef Helmy as minister of communications and Wael al-Maddawy as minister of civil aviation.
Sources from the Finance Ministry have said that Hegazy belongs to the Muslim Brotherhood, describing him as "Brother to the core." They also said that Hegazy is a professor of economics and finance at Alexandria University, but that aside from that he is unknown within ministry circles.
Beshr, nominated for the Ministry of Local Development and previously selected as governor of Monufiya by Morsy, is a leading Brotherhood figure in the governorate. He was previously imprisoned after a military trial for his affiliation with the group under former President Hosni Mubarak's regime.
Mohamed al-Shahat, a media adviser to the Transportation Ministry, told Al-Ahram newspaper that Abdel Latif, the new minister of transportation, is a professor of transportation planning and traffic engineering who received his PhD in 1990.
Abdel Latif is also a United Nations-recognized expert in the field of transportation and traffic, and the independent Youm7 quoted informed sources as saying that Abdel Latif is a leader within the brotherhood.
Salem, nominated minister for legal affairs and parliamentary councils, occupied the same position in Kamal al-Ganzouri's Cabinet, which preceded the current government of Hesham Qandil.
Salem was deputy dean of the Cairo University Law School and worked as director of the school's crime research center.
Imam is former chief of the Cairo Company for Electricity Production, and just last month was appointed Vice Minister of Electricity under Mahmoud Balbaa by Morsy.
Imam has been praised for his efficiency, and ministry sources say he will focus on increasing power stations' efficiency to limit the frequent outages the country saw last summer.
Ibrahim, the newly-appointed interior minister, has been part of the police force for 36 years and spent most of his career in the criminal investigations departments of several Egyptian governorates.
He graduated from the police academy in 1979, and served as the head of Qena Security Department at the time of the 25 January Revolution, then as the head of the Assiut Security Department later in 2011.
Sources said that the main reason for choosing Ibrahim as the new Interior Minister was his role in securing Morsy's visit to Assiut in November of last year.
More than 10,000 officers and soldiers were assigned to keep security in Assiut during the visit, and the numbers were praised by Morsy himself.
Former Interior Minister Ahmed Gamal Eddin then assigned Ibrahim as his assistant for prison affairs on 12 November 2012
Sources close to Kamal, the newly-appointed minister of supply and social affairs, say that he oversaw communications between the president's office and the ministries of supply and social affairs and petroleum last year.
He oversaw fuel-related issues, including fuel subsidies and the distribution coupons for butane gas cylinders.
Abdel Aal, the newly-appointed minister of environment, holds a PhD in Environmental Economics. He is the vice-chief of the technical cooperation initiative implemented by the Ministry of Local Development and funded by the US government.
He previously occupied several posts within the ministry
Helmy, the new communications minister, was previously a board member for the Information Technology Industry Development Agency, the head of the Chamber Of Information Technology and Communication, and the General Manager of Oracle's Egypt and North Africa division.
Helmy is also one of the founders of the outsourcing industry in Egypt through the Oracle technical support center.
Cabinet Spokesperson Alaa al-Hadidy told the Mehwar satellite channel Saturday that positions for the new Cabinet were not assigned based on party affiliations, describing the Cabinet as "technocratic."
Hadidy added that recent political instability and protests have greatly affected Egypt's economy and its tourism trade specifically, as well as it's international standing, which in turn has been reflected by the country's currency slide.
Hadidy also referred that security is one of the Cabinet's top priorities.
Qandil contacted outgoing ministers Saturday to thank them for their work while in office.
Edited translation from Al-Masry Al-Youm