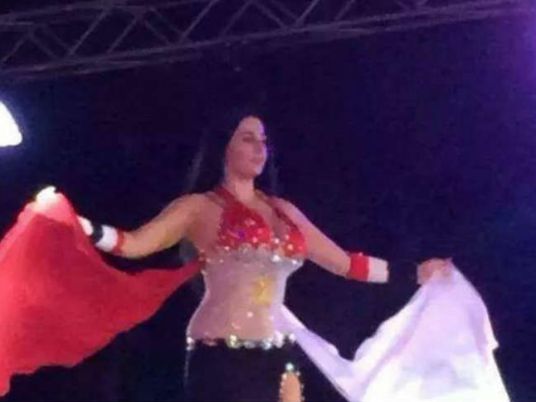 Egypt-based Armenian belly dancer Safinaz commented on criticism directed to her over wearing a niqab (face veil) as she headed to the prosecution on Monday, saying she was extremely exhausted and needed to disguise herself from prying eyes.
"I like to wear them," Safinaz added, referring to the face veil which she said she was used to wearing during her work in Gulf countries.
"My arrest was sudden. I was terrified because during the days of the revolution three thieves broke into my house and wanted to kill me," she told presenter Wael al-Ibrashy on the TV channel Dream 2 Monday evening.
"I called my business manager and the Russian Embassy to rescue me and they told me not to open the door. But I discovered they were the police," she said.
Safinaz denied she threatened to jump from the balcony of her house after the police arrived.
"I was happy after the elections that there was an elected president of Egypt which I love more than my country. I love Egyptians and I do not mean any offense to the country," Safinaz said during interrogations when the prosecutor asked her why she put on Egypt's flag while dancing.
During one of her shows last summer, Safinaz wore a suit carrying the Egyptian flag's three colors and the eagle, prompting some to accuse her of violating Article 223 of the Egyptian Constitution which states that insulting the Egyptian flag is a crime punishable by law.
Manpower Minister Nahed al-Ashry condemned Safinaz and called on the Egyptian authorities to deport her.
Other offenses
Safinaz is not the first to face such accusations in Egypt.
Last September, a similar claim was filed against the owner of the Al-Tawhid wal Nour chain of stores, as the shop was selling shoes that bore the Egyptian flag. He was, however, acquitted by the Giza Misdemeanor Court.
Another young man called Mikel was arrested for burning the Egyptian flag in Tahrir Square. He was sentenced to 6 months in prison in 2014.
In December 2014, Secretary of the Nasserist Party in Sohag, Hamdy Akl al-Sharqawy, filed a claim accusing the head of the Education Directorate in the governorate of insulting the Egyptian flag.
According to Sharqawy, the director deliberately failed to change the flag placed at the top of the Education Directorate before it had become threadbare.
Former interim president Adly Mansour issued a presidential decree in 2014 criminalizing any insult to the Egyptian flag or national anthem. The law stated that the defendant could be jailed for up to one year and fined LE30,000.
Edited translation from Al-Masry Al-Youm