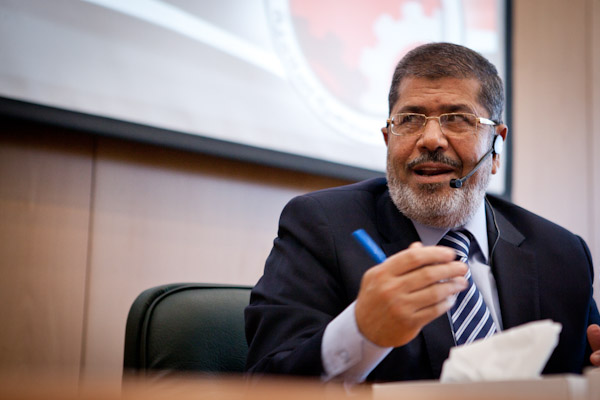 Members of President Mohamed Morsy's advisory board and certain political figures have expressed reservations about the presidential team of assistants and advisors that was announced by spokesperson Yasser Ali on Monday.
"I hoped the team would not have been selected from certain political parties or groups," said board member and secular journalist Ayman al-Sayad. "But most of it is."
Sayad told Al-Masry Al-Youm that the board should be "independent" of the presidential team.
The advisory board also includes Essam al-Erian, vice president of the Freedom and Justice Party; Mohamed Selim al-Awa, former Islamist presidential candidate; Seif Abdel Fattah, professor of Islamic political thought, and poet Farouk Guweida.
"As an independent body, the board should serve as a think tank for the president and provide a comprehensive political vision," Sayad said. "And it should have no decision-making powers."
For his part, Guweida said he does not clearly understand his function. "I think I would handle public freedoms and the rebuilding of the Egyptian citizen on new cultural foundations," he told the state-run Al-Ahram newspaper. "This is the most serious problem facing Egypt now."
Ayman Nour, leader of the Ghad Al-Thawra Party, said half of the presidential team is from the Brotherhood and the Salafis, who are joined by some technocrats — but no liberals. "It was good, though, to select Amr al-Leithy and Farouk Guweida," he tweeted.
On the other hand, Moataz Abdel Fattah, professor of political science at Cairo University, said it is a balanced team that shows Morsy is keen on communicating with the opposition.
Ali said the name of the presidential team reflects Morsy's vision that it should represent the wide political spectrum of society, and will act as a "collective mind" for Egypt that will propose ideas and projects.
The team consists of four assistants and 17 advisers and represents various Islamist factions as well as liberal and socialist figures.
The four assistants include:
—Pakinam Sharqawi, a political science professor, who will act as the presidential assistant for political affairs;
—Samir Morkos, a Coptic writer, who will act as the presidential assistant for democratization;
—Essam al-Haddad, a prominent Muslim Brotherhood member, who will serve as the presidential assistant for foreign affairs and international cooperation;
—Emad Abdel Ghafour, the leader of the Salafi-oriented Nour Party, as the presidential assistant for national dialogue.
The team also includes 17 advisers of various public figures including media host Amr El Leithy, secular journalist Ayman al Sayad and nationalist writer Sekina Fouad.